It's always great to meet old friends! It's a bit nostalgic always, a little reminiscent of the old times, and also a great way to remember that you have strong allies who will stand by you in the times to come!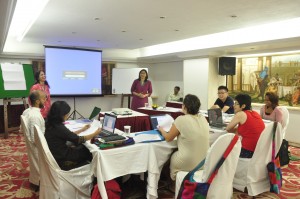 That is what it felt like to meet six of the 2012 Youth Advocacy Institute's alumni at a Refresher Institute we held on September 2 and 3, 2013. Just to jog all our memories: ASAP held its first youth advocacy Institute Between Oct 31 and Nov 3, 2012. We had 13 participants from 11 countries, some of whom went on to receive small grants from us and conduct their own projects! Others began their own blogs or translated content on sexual and reproductive health into their local languages! Some of them will be at UN ESCAP in the upcoming week.
In the first two sessions the youth champions shared stories of their progress with us.  Here's a quick note on what we learned.
Rola Yasmine, Lebanon: Rola who works with feminist collective Nasawiya, used a small grant from ASAP to conduct dissemination workshops, and to start a website that will carry information about sexuality, gender, sex, contraception, unwanted pregnancies and abortion.
Yu Yang, China: Yu Yang works with the Chinese Youth Network and used the ASAP small grant to conduct workshops for peer reviewers on the need to include accurate information about safe abortion in their conversations with university students. He also conducted a survey after the workshop to assess the change in their attitudes and knowledge towards safe abortion. We hope that this survey will soon be published and will be instrumental in advocacy to include safe abortion in the manual distributed among the peer educators in China.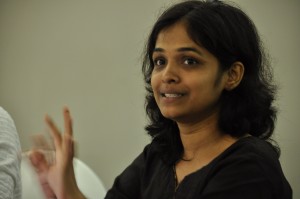 Preet Manjusha, India: Preet works with SAMYAK in Pune, and using the ASAP small grant dived into the most controversial conversation in India right now – sex selection. She conducted interviews with medical practitioners who in the fear of being wrongly associated with sex-selection are slowly refusing to provide safe abortion for women, irrespective of the reason for which it is short. This leads to more unsafe abortion, and Preet's study can be used as ammunition in an intervention that could protect women's rights to safe abortion, which tackling sex-selection as an issue of gender discrimination.
Dakshitha Wickremaratne, Sri Lanka: Dakshitha is a student in Sri Lanka and works with the Family Planning Association of the country. He used an ASAP small grant to study the knowledge and attitude of 1000 young undergraduate students in Sri Lanka to safe abortion. He is still working with a consultant to disaggregate the data, and plans to use it to include safe abortion in the upcoming meetings on formulating the new youth policy in Sri Lanka.
Shreejana Bhajracharya, Nepal: Shreejana started her own blog in the last year – Kumari the feminist, which we recommend if you are interested in news about sexual and reproductive health in Nepal.
Nikzad Zanganeh, Iran: You've seen Nikzad's work yourself on this blog. She wrote a few articles on the family planning policy and the abortion law in Iran. She has been translating material into Farsi for dissemination and also spoke to us restrictions in the use of social media, and about criminal action taken netizens in the country.
These summaries hardly do justice to the body of work that has gone into each of these projects, but hopefully they give you an idea of what the youth champions have achieved over the year.
We had very engaging sessions on population policies and abortion facilitated by Dr. Suchitra Dalvie, in which we learned to define some key terms used in the ICPD and MDGs. What stood out was a discussion on how the market, racist and sexist ideologies influence these definitions, and how a very different economic framework would necessitate very different population policies. At the end of the session we discussed the role that abortion has to play in population control, and ways of going beyond such policies to others that promote abortion as a right.
Sana Contractor, the associate coordinator of CEHAT then talked about research, the various ways in which data can be collected and analyzed in order to arrive at accurate, reliable results that can be used for further advocacy.
On Day 2 we had engaging sessions on ethics and movement building by two veteran trainers, Dr. Amar Jesani and Dr. Manisha Gupte. Dr. Jesani's session highlighted the need to step outside of binaries and to constantly question the ethics of all frameworks adopted by both prochoice and the prolife movement. Dr. Manisha Gupte took this discussion ahead when she explained that the strength of movement building rests in listening and understanding the opposite point of view. Both these sessions led to insightful discussions on what it means to be prochoice, and what it means to promote abortion not as a welfare scheme but as a right that all women can hold their governments accounted for.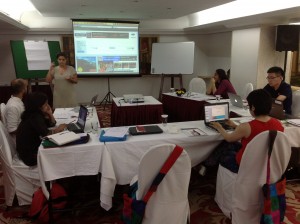 The two-day workshop also allowed the participants to try a few new social media tools like Bufferapp and Klout. Bufferapp will help the participants schedule their posts, while Klout will let them know how influential they are on social media. At the end of the day, we watched a clip from Revolutionary Road, and deconstructed through media the arguments against abortion. We also took a look at memes on Facebook which seem to promote feminism, but may in fact be patronizing or patriarchal.
It was an eventful two days, and an excellent occasion to catch up with one year's worth of work, and to critique and to question our ideologies, to formulate a clearer, stronger and an irrefutable strategy for future safe abortion advocacy.
We are not headed into a four-day workshop for another batch of youth champions. Follow the hashtag #youthchampions for live information either on Twitter (@asapasia) or on Facebook.
(410)