Stay tuned to hear from some of the most pioneering activists and champions of abortion rights in Asia share their experience and what does the future hold for abortion and reproductive rights of all.
"All videos will be published on our Youtube and Soundcloud account, so don't forget to subscribe and follow us on social media, for more updates."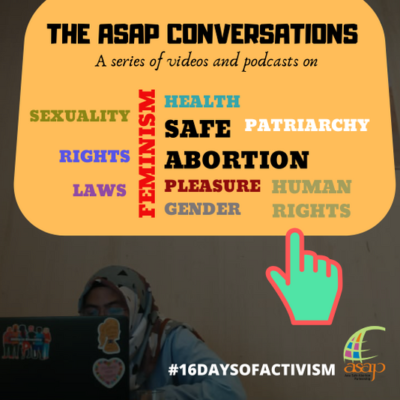 With the kick-start of 16 Days of Activism against Gender Based Violence on 25th November, ASAP launched it's first ever series of videos/podcasts that discuss abortion in Asia(and everything round it!) in detail. We will be releasing 'The ASAP Conversations' which will involve discussions on issues ranging from abortion laws across Asia, to sex selection, to disability & abortion rights, to the politics of srhr in today's age and much more!
Virginity is not a medical condition..or is it?
For our second episode of ASAP Conversations, on #WorldTheaterDay 27th March, Dr Suchitra Dalvie spoke to Applied Theater Practitioner, brilliant writer and director Ayesha Susan Thomas.
She shared with us her journey of using theater as tool for initiating dialogue on issues that matter and her work in progress 'Flabby Breasted Virgins and Other Sordid Tales', a play based on Dr Suchitra Dalvie's article written for Agents Of Ishq and an updated version written for Feminism in India and Haiyya.
You can read the Article here – https://feminisminindia.com/2019/11/19/feminist-gynaecologist-patriarchal-medicine/
Our first video in the series talks about the personal being political. The things we choose to speak out about or the things we choose to keep quiet about, all have political consequences and so our Youth Champion from India, Meera explains, what feminists mean when they say 'Personal is Political'?
Personal Is Political - Youth Champion Meera explains.