In the one year that has gone by since the very first time September 28 was observed as the Global Day for Safe And Legal Abortion under the International Campaign For Women's Rights To Safe Abortion, ASAP has added to its team 28 vibrant, amazing and enthusiastic youth advocates. Thanks to them and to our very diligent and dedicated partners across the Asia-Pacific and the Middle-East, Sept. 28, 2013 was a remarkable day. Here is a quick summary of some of the events that took place that day. Due to the sheer number of events, the short summary here will probably only do half the justice to the effort that went into organizing these events. But we are proud to present them to you.
The Global Tweetathon:
#MedicalAbortion hotlines are a great help to women living under restrictive laws:@shrutijnu @samsar4 #Indonesia pic.twitter.com/t1qxbBuV9U

— ASAP (@asapasia) September 28, 2013
ASAP along with our regional partner WGNRR, our local partners, independent activists from Asia and our youth champions hosted a Tweetathon for Safe Abortion Rights. The hashtags #Sept28 and #Safeabortion can still be followed. Conversations centered around country laws and barriers to the access of safe abortion including stigma, religion, accessibility and affordability. Tweeters stressed on the to make abortion accessible for all women including those in marginal groups. We also received live tweets from our Youth Champions and our partners as they conducted events during the course of the day.
Today is the international day for women's right to #safeabortion. Restricting access kills women. #sept28 pic.twitter.com/uS9XReHVbB

— Nasawiya (@nasawiya) September 28, 2013
ASAP tweeted from 5 a.m. IST to 10 p.m. IST, when the conversation was taken over by our International Partners in Europe, the U.K. and the U.S. We were joined by tweeters across Asia and most notably from Australia, New Zealand, The Philippines, Indonesia, Malaysia, Myanmar, Bangladesh, Nepal, India, Sri Lanka, Pakistan, Iran, Lebanon and Cyprus, and Mongolia. We had some trouble from Pro-life tweeters, but it was handled very effectively by our partners, particularly by Samsara. We will bring you a more detailed account of the Tweetathon soon, but we would like to thank everyone who joined us to share information from their countries, and to support women's rights to safe abortion.
Events Across Asia: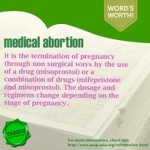 India: TARSHI tweeted their resources on Comprehensive Sexuality Education and their new infographics on Safe Abortion. Youth Champion Shruti Mukerjee was a bundle of energy as she tweeted with us the entire day and shared very informative links!
The entire set can be accessed on TARSHI's Facebook Page.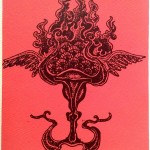 Indonesia: Our partners Samsara tweeted with us all through the day, and spent a lot of time protecting the #safeabortion #sept28 Tweetathon from being highjacked by Pro-life tweeters from the USA. Inna Hudaya of Samsara made sure that people who run into these comments will see the pro-choice perspective by responding to these attacks with her responses.
Samsara also shared artwork by Indonesian artists, and organized a successful flash-mob, images and videos of which will be shared soon!
Iran: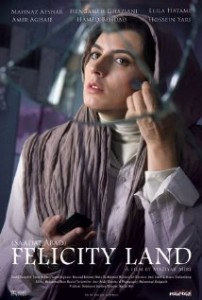 Activities for #Sept28 from Iran: Our youth activist working with her group conducted a meeting with 3 different groups of women activists in Iran. There were 3 lectures on history of abortion, barriers of abortion in Iran and possible ways to promote the concept of safe abortion despite of its legal obstacles. There was also a movie screening with the topic of abortion which you can find some information here: http://www.imdb.com/title/tt2083320/
Japan:
On September 28, 2013, in Tokyo, Japan, ASAP's partners Space Allies had an event for commemorating the late Dr. Sizuko Sasaki, who had fought for women's reproductive rights and built up a centre for survivors of sexual assault. We thank Fumi Suzuki, the Executive Director of Space Allies, Japan for writing to us about this event. Read more: http://asap-asia.org/blog/commemorating-a-feminist-for-sept-28-japan/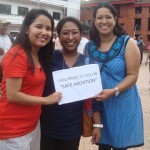 Nepal: Youth Champions Shreejana Bhajaracharya, Prabina Sujaku, Smriti Thapa, Shila Sharma and Luxmi Shresta joined together to conduct multiple events around Nepal. Smriti and Shila organized an Advocacy program for future service providers along with the Midwifery Association of Nepal. Shreejana and Prabina were instrumental in bringing about a Radio Programme about which you can read here, and then all of them got together to conduct two flash mobs – one in Baktapur on Sept 28, and one in Kathmandu on Sept 29. You can watch a short clip here:
Pakistan:
Our partners Peace Foundation conducted a campaign for awareness, while Shirkat Gah conducted a Panel on reducing the number of unsafe abortions in Pakistan. Both organizations will share details with us which we will soon share. Shirkat_Gah was also instrumental in making the Tweetathon a success, with their live tweets from the event, which led to interesting conversations across Asia, as WGNRR, Samsara and TARSHI chimed in and shared the messages.
Sri Lanka: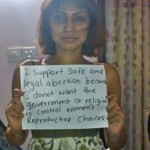 Youth champions Sarah Soyza and Dakshitha Wickremaratne launched an amazing photo campaign featuring young people from Sri Lanka and other Asian countries, sharing their perspective on why they support safe abortion. This campaign called It's Her Right will continue well beyond Sept 28, and its pictures can be accessed here on ASAP's FB page.
There were other events across Asia-Pacific and the Middle East that we only now receiving information about. We will share details as soon as we can!
(744)