Monthly Columns
Word Of The Month: Advocacy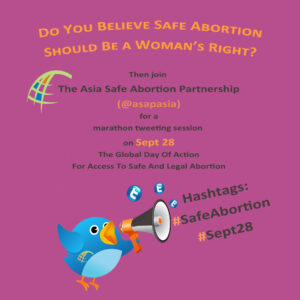 This month our theme has been Role of Information and Technology and Online Activism- So, the apt word of the month would be Advocacy. We therefore would like to repurpose this post by Dr. Suchitra Dalvie's 
What do we understand by this word which is used so widely in our work in sexual and reproductive rights?
Mahatma Gandhi said –"Be the change you want to see in the world".
But sometimes it is just not that 'simple' and we need to make the change happen outside of ourselves—especially when we want policy and law to change. For this we need to engage in advocacy.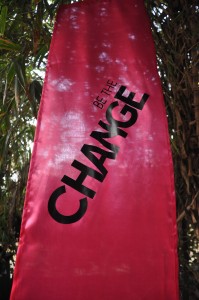 To advocate is to " To speak, plead, or argue in favor of" and someone who does that is an advocate–One that argues for a cause; a supporter or defender: an advocate of civil rights. Or One that pleads in another's behalf; an intercessor: advocates for abused children and spouses or  A lawyer.
Advocacy is thus a political process by an individual or group which aims to influence public and policy and resource allocation decisions within political, economic, and social systems and institutions.
Advocacy can include many activities that a person or organization undertakes including media campaigns, public speaking, commissioning and publishing research or polls or the filing of an amicus brief.
Research is beginning to explore how advocacy groups in the U.S.[2] and Canada[3] are using social media to facilitate civic engagement and collective action.
There are several forms of advocacy, each represents different approaches in a way change is brought into society. One of the most popular forms is social justice advocacy. This includes a range of interventions including questioning existing policies and implementation and proposing policy solutions. Advocacy processes are ideally inclusive and participatory and representative and open up space for public argumentation.
Advocacy for safe abortion rights is gaining momentum across the world with women and their supporters organizing into campaigns, both online and offline.
These groups are challenging the current criminalization of abortion, asking for amendments to existing laws which will allow more women to access safe abortion, challenging the public sector investments being made in ensuring universal access and encouraging doctors and nurses to stand up as advocates for addressing these issues in the public domain.
The advocacy campaigns and forum encompass ideological issues, budgetary allocations, attitudes, access and laws. Some country level campaigns include mass actions such as petitions, demonstrations, flash mobs. The media is a powerful and important partner in such advocacy efforts.
The ultimate goal of advocacy is to change policies and implementation in the desired direction. Since many advocacy goals are long term, measuring impact can be a challenge.
Some examples of advocacy efforts for safe abortion rights:
http://www.september28.org/safe-abortion-advocacy-resources/
http://www.youthcoalition.org/html/home_article.php?id_art=157&id_cat=1
http://www.advocatesforyouth.org/topics-issues/abortion
http://www.ipas.org/~/media/Files/Ipas%20Publications/PAACURRE09.ashx
http://www.ids.ac.uk/files/dmfile/1Intro39.3ws.pdf
ASAP will be soon doing some rigorous online advocacy in the week of May 28th which is also the International Day of Action for Women's Health. Watch this space for some exciting updates on activities of our youth champions from across the region!!