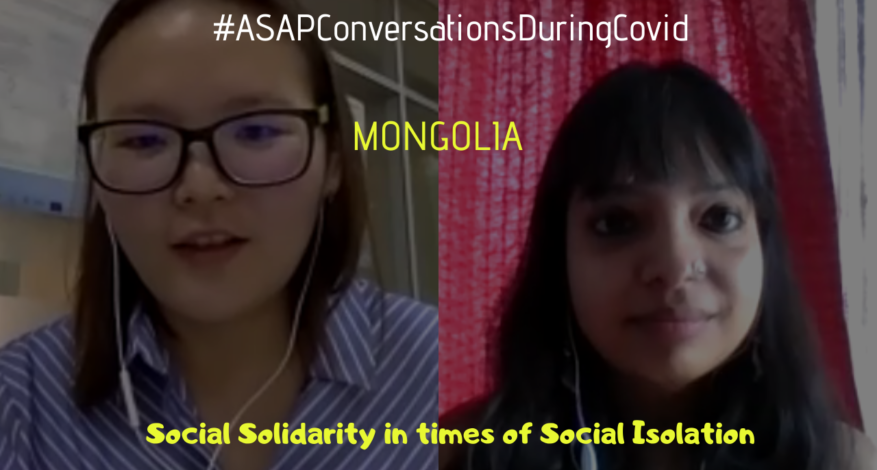 ASAP Conversations During COVID-19
'Social Solidarity in times of Social Isolation' with Anudari, Co Founder Women for Change, Mongolia
This blog is part of a series of Covid conversations held in 2020 with members and partners to understand the impact of the pandemic on safe aborion access for their communities.
Our guest today is Anudari from Mongolia, Women for Change in conversation with nandini Mazumder, Assistant coordinator, ASAP.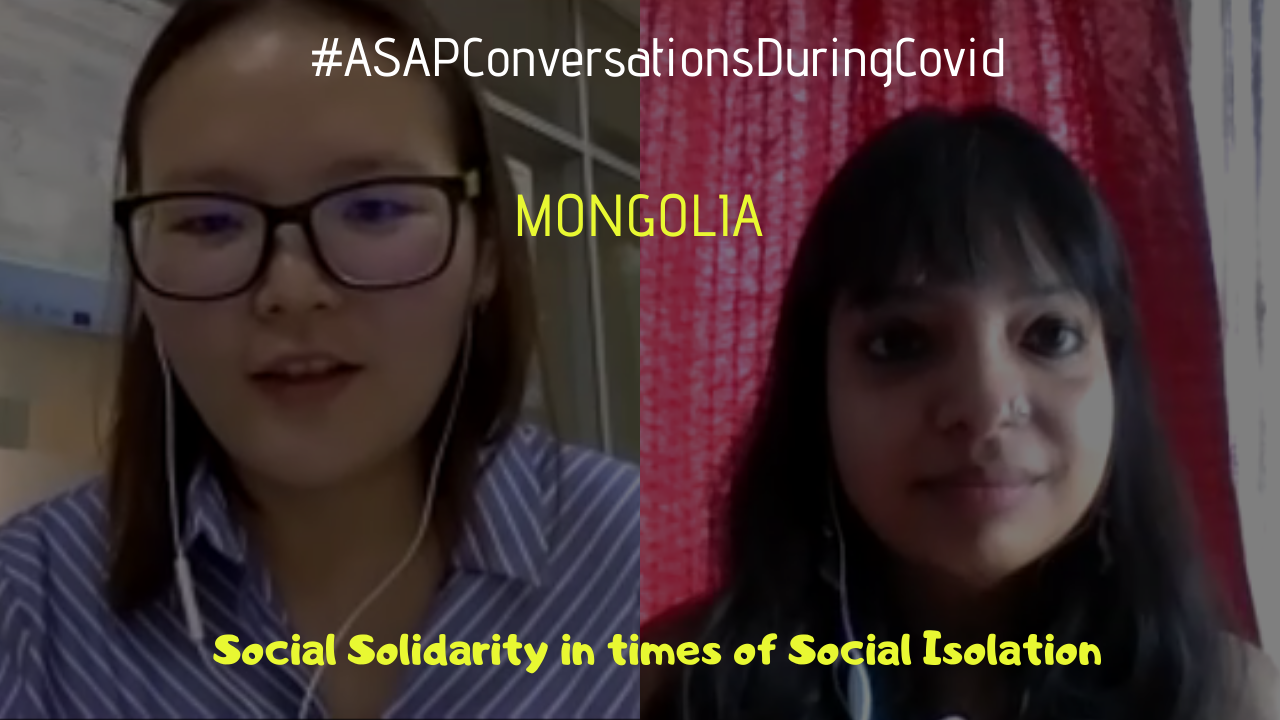 Anudari-Hi Nandini, and hi to all my partners at ASAP. Women for Change Mongolia is an NGO which was established by young women 10 years ago. We have programs especially focusing on gender mainstreaming and fighting for gender equality. Our main job is raising awareness on the gender-based inequality issues among the public. Gender equality issue is quite a new issue to Mongolia but it's being really recognized in the past four five years because many young people are coming back from abroad with the knowledge of the issue and promoting the issue on the level of academia as well as in the civil society and in the broader public.
So, the second thing we do is we focus on empowering ourselves– young women and we have many programs that are focused on the empowerment of women, urban women as well as local women. One is a political leadership program and the other one is the voices for change in which the main participants are the local women who talk about their community and raise issues of their community and seeking for the solutions. We have a community of over hundred young women who are our members so they were involved in a sub training in Mongolia, so this is the work we do in terms of SRHR. We are helping them to build their women's community in the provinces, we call them 'aimag's. We also engage men in our work.
In Mongolia abortion is quite a stigmatized idea, I think it's the same in every other Asian country. Abortion is legal and it was decriminalized after the fall of the socialist regime in Mongolia in 1990s. As per legal requirements, abortions should be performed by medical professional and the self-managed abortion is prohibited whether surgical or by pills. Since we are working a lot on advocacy the challenges we face are obviously the stigma and the misinformation on the issue.
Nandini- What was the situation in Mongolia even before the pandemic hit ? Yes, in terms specifically to SRH or abortion rights but also the larger issues that somehow maybe directly or indirectly affect SRHR and abortion.
Anudari– The health care front line workers–majority of them are women. Up to 80 percent are women and in Mongolia it's public medical care so the salary is really low in the health care service. Even before the pandemic, women did a lot of unpaid care work in the home. Now, it's like the issue is raised but women had the same struggle before this too. With the safe abortion access there is a lot of misinformation and also lack of the adequate information among women especially young women and girls. So that's the ongoing situation.
Nandini- What were some of the gender-based issues or issues that women were facing in the country? What about trans people and queer people ?
Anudari– People who see Mongolia from the outside they say like oh Mongolia, they have a really good gender equality situation. If you see the basic statistics and the lifestyle, women in Mongolia are quite empowered. Girls are more educated than boys and women seek academia more than men and also women pursue professional studies more than men. On the surface the situation looks good but we share the same gender-based discrimination as any other country, such as gender-based violence, domestic violence issues. So, during this pandemic a lot of countries reported that domestic violence reports and calls spiked and it's the same with Mongolia but the changes are really drastic. Domestic violence reported incidents increased up to 87% which is twice than the average of the world !
Nandini-I think a lot of the issues with countries like Mongolia is that they are left out of the map of the mainstream media so we don't get to know what's going on there and we build myths around the countries that we don't hear about often. So, it is really important to hear from you about the situation in Mongolia. Can you also tell us how the pandemic is making the issues that you work with even more challenging? What about access to safe abortion?
Anudari– So here in Mongolia we have over thirty confirmed cases but those are those cases where the people contracted the virus overseas so they are quarantined upon arrival. The country itself is not in complete lockdown but we are in the regime of heightened preparedness. People are just encouraged to work from home but all the schools and kindergartens are closed. The public gatherings such as forums, seminars– those are prohibited. There was a temporary regulation for women from the community of Mongolia which suggested that women can work from home or part time during this regime and the employers should support women working from the home and they are paid as usual. So while this was good it also increased women's unpaid care work. Some small businesses are facing bankruptcy and in those sectors the majority workers are also women so women are badly affected in all ways.
As to the access to the health service– during this regime of like three months there were several times that the government closed the country road, also the road to the city and from the city. So, during that time we assumed that women couldn't access basic health care. Very urgent cases were allowed to come to the city hospitals or even within the provinces but if you go to the government websites or call the officials, we couldn't access the information on what preventive measures they're taking and what measures they will take when the situation will get worse.
Nandini—You have mentioned some important inter-linkages between the economic situation, the increased unpaid care- giving and the reduced access to safe abortion services. I hope governments worldwide, governments in your country look at those vulnerable workers and women workers especially and offer support because that is another big issue that I think worldwide we will face and we are already facing it here in India. So what are you as an organization or as a part of a movement in Mongolia doing to sort of support women through this phase and also like making sure that when this becomes even worse that there is somehow that you provide some support?
Anudhari— First of all as an organization, we have a facing a lot of challenges because our work is mostly project based and also the main activity to do is workshops and seminars
meetings, which are all currently prohibited. We are in the midst of learning to do everything online but the access to the internet is also very problematic. So, for now we are just on the stage of preparedness like we are preparing for everything but not really doing the activism.
Since we had just adopted the temporary covid law, we also did some analysis to review the restrictions which could violate human rights, for example the right of free speech and the regulation related to misinformation and fake news.
We are serving our community–our members of a hundred women and the alumni of our programs and local women– we are all in touch online but still we can't reach some of our local partners because of the situation. Even if there is access to the Internet and even if there is some gadget, you still need some literacy of using those gadgets, programs, applications, so it's a really new challenge for us. We are now doing all the research work on media and how to use the new media and how to transfer smoothly through those platforms but we are still adapting so that those online platforms are also accessible for all. We had also found out about incidents of hunger and malnutrition of children so some of our members are focusing on that issue and they are doing the research work. So we are doing those kinds of works right now.
Nandini- Congratulations to your team, your organization for being a part of the civil society movement that could actually resist that provision and change it and get an amended bill passed in the parliament. I think that is what underlines the importance of the civil society movement in countries around the world. We are all struggling because a lot of the groundwork activity that needed to be done is with communities that are not probably as tech savvy or as digitally literate. Out of all these challenges, what do you think are the main learnings and key takeaways that can inform the next transformative changes so that we can move towards a better world?
Anudari–This pandemic resurfaced the issues that we already had for many years and the key takeaways for our colleagues, for our team, for our organization is that women are still doing greater work, they are doing a lot of care work which is paid as healthcare workers, but also mostly unpaid care work at home. So, after this pandemic we should really focus on the issue of women working in the healthcare sector, also women doing all kinds of care work. Also, we should focus on the issue of domestic violence. We thought we were successful in fighting domestic violence because we had those revised laws and the services were getting better and the police and healthcare were responding to domestic violence like they should, but this pandemic revealed that we should also really move forward fighting domestic violence and gender-based violence overall. It is really deep-rooted power relations.
Nandini- Thank you for this reminder that women are currently doing the largest share of work whether in paid care or unpaid care and that we really need to review and revise the power relations in all spaces. Thank you so much Anu for joining us!
You can watch the video here and listen to the podcast here.