Every year 28 million women seek abortions across Asia. Because of restrictive laws and poor access to safe, affordable abortion 9.6 million of these women are forced to risk their lives by getting unsafe abortions.
Tomorrow prochoice advocates worldwide will unite for the International Day of Action For Safe And Legal Abortion. On September 28, we would like to invite you to occupy social media with us, and join our Tweetathon to advocate for the decriminalization of abortion, to improve access to safe abortion, to advance women's rights to make decisions for themselves, to protect women and abortion providers from harassment, and to recognize safe abortion as a still unmet reproductive right.
We are using the hashtags #safeabortion and #Sept28 . To join ASAP follow us on Twitter (@asapasia) and tweet to us! We are joined in this effort by our regional partner, WGNRR. You can refer to the ASAP website and the WGNRR website for useful information on safe medical abortion, resources on the law, country profiles and for campaign material.
Follow the hashtags here.  As you tweet your post will be automatically added to this list as long as you use the right hashtags!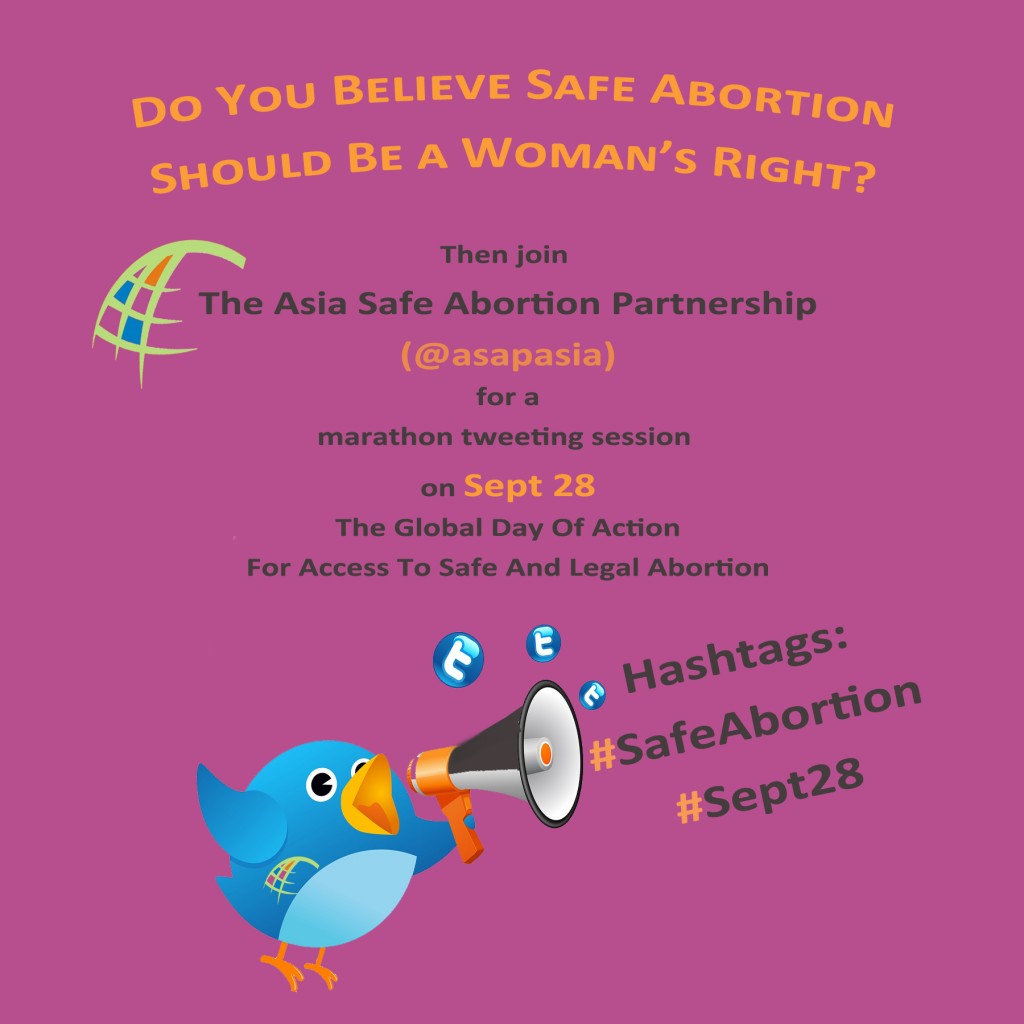 We know that you might be busy and so here are a few tweets we wrote down. You can simply use these to support us!
1. Unsafe abortion is a reality. Every year 47,000 women die of unsafe abortion worldwide. Demand #safeabortion now. #Sept28
2. Unsafe abortion contributes to high rates of maternal deaths. #SafeAbortion saves lives #Sept28
3. Restrictive laws don't reduce abortions. They increase unsafe abortions. Repeal these laws now. #Sept28 #safeabortion
4. No more deaths from unsafe abortion. We demand #SafeAbortion Now. #Sept28
5. Support women's autonomy and their right to #SafeAbortion #Sept28
6. No contraceptive is 100% effective. Women with unwanted pregnancies need #SafeAbortion. #Sept28
7. Family Planning Policies are incomplete without legal #safeabortion for all women who need them. #Sept28
8. Let's put an end to shaming. Don't ask women why they need an abortion. Make it safe instead. #Sept28 #safeabortion
9. Women must have the right to choose if and when they want to be mothers. Support #safeabortion #Sept28
10. No more stigma. Stop the harassment of women who need abortions and abortion providers. #Sept28 #safeabortion
And from WGNRR:
Maternal morbidity and mortality will NOT be reduced w/o ensuring access to safe, legal, accessible and high quality abortion services #sept28
Government must provide the right to safe and legal abortion! #sept28
Should women who've had an abortion be jailed?Decriminalise abortion! #sept28
Unsafe abortion is a leading cause of maternal mortality. #safeabortion now! #sept28
Access to safe and legal abortion is a HUMAN RIGHT. #sept28
Criminalising abortion will not stop it, but will force women to seek unsafe underground services. #safe and #legal #abortion now. #sept28
We'll add more from our local partners soon!
(609)