About 28 million women seek abortions in Asia every year, and about 9.6 million of these women do not have access to safe, legal, affordable abortions. Asia's demographics show that the burden of unsafe abortion is increasingly being borne by young people. Join our partner organizations and youth champions around Asia to advocate for women's right to safe abortion.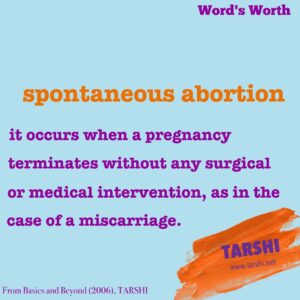 India:
ASAP's youth champion Shruti Mukherjee who works for TARSHI Delhi is planning an infographics week using TARSHI's Facebook page to promote awareness about the right to safe abortion. Follow them on Facebook, and share the information.
Indonesia:
Samsara in Indonesia will lead very vibrant campaigns in Jogjakarta. ASAP Youth Champion Tia Setiyani is involved in all these activities.
Social Media Campaign
Samsara will run a social media campaign. We will collaborate with local, national, and international partners.
Virtual Mural Campaign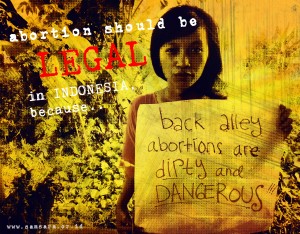 Samsara will send an invitation to our Network (which includes organisations and individuals all over Indonesia) to join in a virtual mural campaign. We will ask them to make a mural photo relating to the September 28 Campaign.
Organisations or individuals can make a mural photo by complete this phrase:
Abortion should be legal in Indonesia because__________"
All the photos will be collected by us and will be used in our visual social media campaign in Indonesia. We will also compile the photos into a virtual mural video and sent it to WGNRR as a part of global virtual mural campaign then upload it to youtube.
Flash Mob "It's My Circle" Campaign
The 'It's My Circle' concept comes from os or cervix philosophy. Women, as the owners of their bodies, and their uterus have the authority to make any decisions which affect their bodies..
It's My Circle Campaign is a positive campaign to defend women's reproductive rights, especially the right to decide when and whom they will marry and whether and when they will have children.
We will invite our everyone in our network who is interested in this campaign to join the flash mob. In this flash mob, we will all hold hands in a circle and stand absolutely still in a public space. Each participant will wear a 'it's my circle' t-shirt or a palin white t-shirt. The "it's my circle" flash mob campaign will be held on Saturday, September 28, 2013. The venue is still to be confirmed.
Nepal: 
The Bakhtapur Youth are gearing up for two events on Sept. 28. Leading them are ASAP Youth Champions Shreejana Bhajracharya and Prabina Sujaku. 
Flash Mob
Where and When:
On 28 sept at Taumadhi Square Bhaktapur , Nepal
On 29 Sept Basantapur Durbar Square Kathmandu, Nepal
The messages are:
Our Bodies, Our Future
My body, My Right
*Safe Abortion is legal in Nepal.
Radio Programme:
One expert on Safe Abortion and a youth leader working for SRHR will have a talk program on air about access to safe abortion.
Major  messages
 Global Day of Action for Access to Safe and Legal Abortion celebration.
Legal Provision in Nepal for Safe Abortion.
Complication and Effects of Unsafe Abortion.
Effects of Safe Abortion.
Youth Peer Leaders involvement in advocating Safe abortion in Nepal.
When and Where
On Sept 28 at Bhaktapur FM 105.4 Mz, Bhaktapur , Nepal
Pakistan:
Peace Foundation, Pakistan  is planning awareness raising activities with 40-young peoples on termination of unwanted pregnancy, family planning, medical abortion and STDs and STIs.
The activity will be held for two days, 28 September  and 29 September for participants 16 years or older, with a separate session for newly married couples. Each day the number of participants will be 30-35. The local media will be invited.
Peace Foundation will discuss sexual and reproductive rights, medical abortion, use of contraceptives, consequences of early marriages, prevention from sexually transmitted diseases. Stigma against termination is a huge barrier in Pakistan. The discussion  and field stories will help to remove such kind of stigma associated with abortion. We are providing services in medical abortion counseling, participant will know more about our service and they will use it. Young people have not chance to discuss about their sexuality due to innumerable reasons. Our workshop will give them opportunity to learn more about sexual issues specifically how to remove unwanted pregnancy.
Shirkat-Gah will hold a panel discussion on "Addressing Unsafe Abortion in Pakistan" The panel is being organized to share advocacy plans and strategies of different organizations and individuals working on the issue of maternal mortality and to determine where efforts can be synergized. As well as to explore the role of media in highlighting the issue. About 40-50 people are expected at the event.
Each speaker from the panelist will give a presentation addressing the issue. After the presentations by the panelist the audience will be given a chance to join in the discussion as well. Panelists include Zeba (Pop Council), Sadia Pal, Samreena Hashmi, Sofia (CNBC) and Rahal Saeed
Sri Lanka: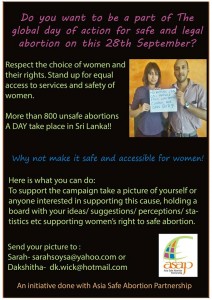 Two of ASAP's youth champions Dakshitha Wickremaratne and Sarah Soyza are planning a photo-campaign that will promote women's rights to safe abortion. The message is "Respect the choice of women and their rights. Stand up for equal access of services and safety of women. More than 800 unsafe abortions A DAY take place in Sri Lanka!!Why not make it safe and accessible for women!"
Here is what you can do to be part of this:  Take a picture of yourself or anyone interested in supporting this cause, holding a board with your ideas/ suggestions/ perceptions/ statistics etc supporting women's right to safe abortion and send the picture to sarahsoysa@yahoo.com or dk.wick@hotmail.com
These pictures will be published on the ASAP Facebook and Twitter pages as well!
More activities will be published as they are sent to us. To let us know what you are doing email us at discussions.asap@gmail.com
(630)