It's World Population Day. Today, the Govt. of UK, and the Bill and Melinda Gates foundation meet with world leaders at the Global Family Planning Summit to discuss the need to fund family planning, and bring justice to over 200 million women around the globe.
The Gates Foundation is going all out to keep the world engaged, and to give them an opportunity to participate.  A live stream of the summit will be available on this website. If you are following the live stream, then watch out for India and Indonesia's presentations at 10.25 a.m. BST and 11 a.m. BST.
Starting at 9:30 a.m. British summer time. From 13:45 to 17:00 BST, there will be a Twitter chat with the hashtag #FPChat.
With just a few hours to go until the Global Family Planning Summit in London, there's a lot of buzz on twitter. Before I head to the exciting media out there, I'd like to share some of our concerns:
The Exclusion of Safe Abortions: The Gates foundation hopes that the increased access to contraceptives will reduce unsafe abortions by 70%. But legislating safe abortions and making it available to all women as a reproductive right is the best and the most effective way to prevent unsafe abortions.
In this particular case, contraceptives are only about 90% effective, and their failure leads to unwanted pregnancies. This can be very stressful for the woman, and she has to be given access to safe abortion services. While, the Gates foundation has made it clear that safe abortions will not be in the agenda, one hopes that the participating countries will integrate these services into their health plans.
The Exclusion of Men: In the developing world, women are not always in charge of making decisions about their bodies. In many families, social, religious and cultural factors give their husbands absolute rights to make decisions about sex, the size of their families, and the spacing of their pregnancies.
So, it is very important to include men in all conversation on family planning, to dispel the myths they might believe in and to help them identify the flaws in old patriarchal systems.
While it is important to empower women and educate them to make independent decisions about their futures, it is important to educate men on the need to support their wives and daughters.
Here's a clip from a documentary called "Yes we can" produced by the Center for Health and Social Justice. It shows the story of Dadaso Gurav, who learned about contraceptives, informed his wife and planned his family.
In spite of the setbacks, the summit is a giant leap for several women world-wide, and here's how the excitement feels on Twitter:
1. Melinda Gates said "Why is family planning important to me? It can make all the difference to women and girls everywhere," and shared this animated feature created by the Gates Foundation.
2. UKAID quotes Ellen Johnson Sirleaf: "The communities, countries, and societies that give women opportunities are the ones that succeed" A few days ago they shared a video on empowering women in Pakistan through Family Planning services:
3. The International Planned Parenthood Federation and others have shared the civil societies' declaration of support for the summit. It's signed by 1292 organizations from 177 countries.
4. Several young women have tweeted their excitement about the summit. Dilisha Patel, a follower of ASAP, has blogged her expectations, pointing out that ," For the success of any intervention no one should be discarded, from the village heads to the state heads, from the young girls to the grandfathers. With everyones inclusion and support will come the success of the pledge. Her entire article is available here.
5.Ashley Judd, who has always been outspoken about women's rights issues, has showed her support for the Family Planning Summit.  She's tweeted about her Op-ed in The Guardian.
Talking of support, one voice that has really stood out on Melinda Gates, brainchild, www.no-controversy.com is that of Dorothy Fadiman, producer and pro-choice feminist. She endorses the campaign, braves information about her own unsafe abortion, and frames family planning under the broader framework of reproductive justice and human rights. Her story, in her own words is as below: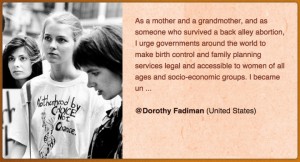 "As a mother and a grandmother, and as someone who survived a back alley abortion, I urge governments around the world to make birth control and family planning services legal and accessible to women of all ages and socio-economic groups. I became unintentionally pregnant when contraception was not legally available to unmarried women. I was a graduate student, working full time to cover room and board and then it was the absence of contraception that impacted my life.
I had no savings, no partner, and was in debt paying down student loans, and was unprepared to raise a child alone. I did not want to become a welfare mother. To terminate the pregnancy, I paid a stranger $600 cash (1962) for a blindfolded, unanesthetized back-alley abortion, which almost cost me my life. If I had had access to legal contraception, I would not have gone through that life-threatening trauma.
Years later, birth control enabled me to plan the birth of my two children, and then go on to develop a career as a documentary filmmaker. To raise awareness about the danger of back-alley abortions and the growing threat to family planning services, I produced an OSCAR-nominated trilogy: CHOICE: Then and Now – WHEN ABORTION WAS ILLEGAL: Untold Stories, From DANGER to DIGNITY: The Fight for Safe Abortions and The FRAGILE PROMISE of CHOICE: Abortion in the USA Today. These films clarify that the struggle for women's reproductive rights is intimately connected to a larger movement for social justice and human rights."
Will the summit live up to these expectations? We'll know in just a few hours.
(624)