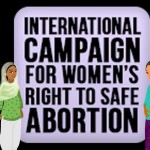 Today, May 28 2013 is a very exciting day for us. ASAP, as you know is a co-founder of the International Campaign For Women's Right to Safe Abortion. The campaign was launched exactly a year ago, and to observe its first anniversary, we are launching a 7 minute animated short film titled From Unwanted Pregnancies To Safe Abortion.
This film tells the story of Ms. A, a young Asian woman with an unwanted pregnancy. Take a walk with Ms. A and discover the barriers she encounters, the stigma she is forced to face and the legal conundrums she has to unravel before she can access safe, affordable and legal abortion. Will she succeed? Or will she become one of the 9.6 million women who are forced to risk unsafe abortions every year in Asia.
We began working on this film in early March. By mid-April we had decided to create Ms. A to show that women who die from unsafe abortion, women who are shamed, women who are denied the right to control their fertility are not mere numbers. They are people, some of them mothers, others only young girls.
We would like to thank our illustrator Shachi Kale who gave Ms. A her distinct look, and helped us create a character who could be any Asian woman seeking abortion. Shachi worked with us to create detailed images that also illustrate the contexts within which Ms. A's decisions have to be understood.
We hope you will share it with your networks and help us make Ms. A's case stronger! Almost 47,000 women like Ms. A die worldwide every year. These deaths are preventable, and sharing information about the barriers to access safe abortion alone can save lives.
As the writer and editor, I found this film both challenging and a pleasure to work on. And I am glad to say that in some ways, this project is not yet over. I would like to welcome comments from you to make this an even better experience for you as a viewer, and a stronger tool for you as an advocate for abortion rights. We plan to release this perfected version on September 28. So do help us, and write to ASAP on discussions.asap@gmail.com or to me directly on kriznan.shweta@gmail.com  telling me what else you would have liked to see, what you liked, what could have been different, and what did not work for you.
You can also celebrate one year of the campaign by visiting the new website http://www.safeabortionwomensright.org/ built to help networks forms, and collaborations rise.
In the meantime, the ASAP team is at Women Deliver. Follow our live tweets on @asapasia
(863)