The Guttmacher Institute has published a report that summarizes the costs and benefits of making modern contraception more accessible in the developing world.
The numbers the Institute tweeted this morning were astounding: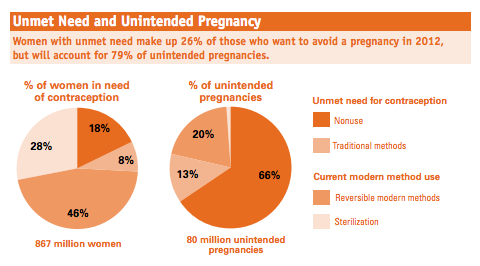 There are 222 million women with little or no access to modern contraception, and meeting these unmet needs can prevent up to
218 million unintended pregnancies
118, 000 maternal deaths
26 million abortions
16 million unsafe abortions
To Read Full Report Click Here
The Lancet series on family planning, published ahead of the Summit, is a comprehensive collection of studies on the evidence of the effect of family planning on people's well-being and welfare. Click Here to view the series.
This year also gives cause for celebration for India. It's 60 years since India became the first country to formulate policies on family planning.  These were introduced to counter the growing population, and not as a means to empower women. But if progressive ideas on reproductive rights are well integrated, these policies could lay the foundation to laws that empower Indian women by allowing them to choose if and when they want to become mothers.
Incidentally, the International Planned Parenthood Federation is also turning 60.
Such stories are highlighted in John May's Book, World Population Policies: Their Origins, Evolution and Impact. According to this Book Review in the New Security Beat, this book makes for good reading in preparation for World Population Day on July 11th, when world leaders will meet in London for the Global Summit on Family Planning.
Also, in time for the Summit, is this video from Pakistan which shows U.K.'s International Development Secretary, Andrew Mitchell in conversation with mid-level workers from Pakistan. These women learn about modern contraception, and take it to their community.
The Government of the United Kingdom along with the Bill and Melinda Gates foundation hopes to hold constructive conservations with leaders from around the world on the need to implement family planning techniques. Melinda Gates has said that she hopes to raise 4 billion dollars to help meet the unmet need for contraception.
There are many setbacks to this summit like the omission of safe abortions. But one other factor that stands out is the exclusion of men from all conversation and dialogue initiated by the summit.  In several regions within Asia and Africa, women still do not have the right to say no to sex, or to having more children. As can be seen in the video below (again, shot in Pakistan), plenty of women are forced into multiple pregnancies to satisfy their families' needs for more children, or particularly male children. This is true of other countries like India, Bangladesh and Sri Lanka as well.
Also, as the video illustrates, not all men necessarily understand how and why contraception can help their wives. Some of them believe in myths that vasectomies and condoms will reduce their virility and therefore affect their manhood. Because of all these reason, it is very important for the upcoming summit, and any ensuing discussion on contraception to engage men in dialogue, and educate them as well.
This article published in The Good Life is a really good read on how men and women should be equally responsible for bringing a child into the world.
(468)