Last month, ASAP conducted our first Youth Advocacy Institute. We had 13 successful participants, and we are happy to publish a blogpost written by Dakshitha Wickremaratne, one of our Youth Champions.
Dakshitha is from Sri Lanka and works as a Focal Point in UNFPA's Youth LEAD (Youth Leadership, Education, Advocacy, Development). He has been an SHRH advocate since 2010. He writes a blog called Young Social Worker.  The blogpost below was first published on that blog. 
There are five fingers in our hand which are very different in shape and size from each other. Even though the final finger is the smallest of all we cannot forget about it. If we are to protect our fingers we would give equal attention to all the five. I look at life in the same way. Every human being should have equal rights. And the attention given to each and every right should be equally important. Even though the sexual rights are considered to be taboo in the general society, we cannot just forget about it and continue our life. The importance of Comprehensive Sexuality Education (CSE) comes to the stage under these circumstances.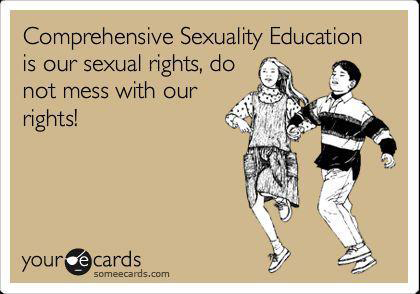 There were times in the school where I was asked to go out of the class and kneel down simply because I raised an unwanted question according to the Health Science teacher. Questions are being raised when there is a doubt to be clarified and when such positive steps are knocked off from the initial level, there will be millions of question marks in minds of adolescents and youth. When I turn my head back and look at the way I have come so far I am glad that the incident of kneeling down out of the class has made me to be a peer educator in sexual and reproductive health. But then again I feel disappointed when I realize that there are youth in my age group who are still unaware and seeking ways to know about their basic sexual rights.
I suppose the time has arrived to take the initiative of providing Comprehensive Sexuality and Reproductive Health education in schools. And the cutting edge in this implementation is to realize the effectiveness of providing CSE not just providing it somehow. Preparing a curriculum will not be enough if the process contains loop holes. This will lead to zero output. Authorities must consider the generation gap and each and every youth perspective in the CSE implementation process. We as youth should advocate for this structural change sensibly and realistically.
Being in a decade where people campaign for sexual and reproductive rights, Comprehensive Sexual Education can be noted as one of the major requirements we should advocate on. One smart person sometime ago has said that "we can take the horse to the river; but we cannot make it drink water". As peer educators I believe "we should train the horses in such a way that they will go to the river by themselves and drink water whenever they need to". That's how I believe the world should be and the need of positive change is what keeps me going forward. Are you ready to create change???
(619)