It's not easy to talk about abortion in Pakistan. But a study undertaken by the Pakistani organization, Shirkat Gah, shows that women across the country have an unmet need for safe abortions. Unsafe terminations compromise the physical, emotional and mental wellbeing of married and unmarried women in the country. Some of these unsafe procedures lead to suicides or result in permanent infertility, and death.  
The recorded burden of unsafe abortion on Maternal Mortality Rate in Pakistan is just 6%. But several post-mortem reports do not clearly reveal if the cause of death was an induced, unsafe abortion or a complicated miscarriage. So, the Pakistani Household Survey (PDHS -2006) estimates that the deaths from unsafe abortion could be higher than what is reported.
This September 28, Shirkat Gah took a remarkable step towards alleviating this situation, when they conducted a national networking event and brought together several community-based organizations to discuss the unmet need for safe abortion.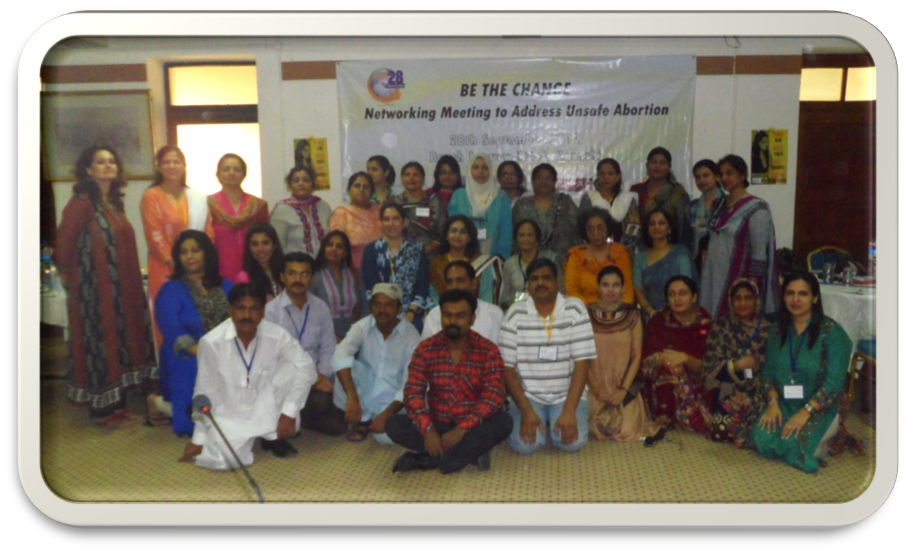 In an email interview Dr. Tabinda Sarosh, Manager of Reproductive Health for the Women's Resource Center at Shirkat Gah, told us that incorporating the rights approach into the Pakistani law was a sensitive issue, but the response to the meeting showed that the time was right. "Given the volatility in the society and the sensitive nature of the discussion beginning with addressing UNSAFE abortions will be safer than demanding SAFE abortions. Yet this would still be a step ahead of Post Abortion Care," she said.
Dr. Sarosh's elaborate and detailed report of the event is below.
On September 28, Shirkat Gah launched its campaign to end unsafe abortion in Pakistan by organizing a networking and advocacy meeting on Friday to address issues of unsafe abortion.
The meeting, held with the support of the Women's Global Network for Reproductive Rights (WGNRR) and Ipas Pakistan, was attended by several organizations and individuals with experience in advocating safe abortions and those who wish to take up this initiative in the future. These included the National Commission on Maternal and Neonatal Health, Midwifery Association of Pakistan, Marie Stopes, Family Planning Association of Pakistan, Ipas, Pakistan National Forum on Women's Health, Greenstar, Peace Foundation, partner organizations of Shirkat Gah who are working on reproductive health at grassroots level, prominenet RH activists (Hilda Saeed, Kausar S. Khan, Ayesha Khan, Kamyla Marvi) as well as representatives of national print and electronic media
Objective of the meeting:

The objective of the meeting was foremost to unite under an umbrella to reaffirm the vows to end unsafe abortion in the country by creating widespread awareness on the legal, service and social aspects of unsafe abortion and promote maternal health and reproductive health of women and girls.
To link the organizations working at grassroots level with the prominent national organizations and networks working on abortion and present the scope of the problem in the context of a women's health and rights.
To learn about the plans of action/advocacy of various individuals and organizations as a part of their work to eliminate unsafe abortion.
The meeting started with welcome remarks by Dr. Tabinda Sarosh, Manager, Shirkat Gah who shared that September 28 is a day for worldwide efforts against unsafe abortions. "The need of the hour is to adopt a rights-based approach, one that has long been advocated by Shirkat Gah. Shirkat Gah has also done extensive research that proves, beyond any doubt, the scale of this problem". She shared that abortion is a reality, one that needs to be dealt with in a professional manner. Women must be provided affordable and accessible services without any bias. Service providers need to understand that abortion is neither against the law or religion and that every woman deserves complete health services and respect.
Sessions 1:
Uzma Farooq of Shirkat Gah gave an overview of the global and national state of unsafe abortions. According to a study conducted by the Population Council and Guttmacher Institute in 2005, 890,000 abortions take place in Pakistan every year. Under Pakistani law, abortions are permissible in the first four months of pregnancy for preserving life or providing necessary treatment and, after four months, on condition of saving the woman's life. Studies have shown that there is a lack of awareness about the legality of the procedure on the part of legal professionals and medical service providers.
Reasons for women resorting to unsafe abortions include, but are not limited to, a lack of knowledge and access to family planning; contraceptive failure; lack of autonomy over their own bodies and a lack of access to appropriate medical professional (due to fear of violence, finance, distance).
 Session 2: 
A short film titled "Baitiyan" ( literally translated as Daughters) was also screened. This film was produced by a well known feminist artist, Sheema Kirmani for the Pakistan National Forum for Women's Health headed by Dr. Shershah Syed . The film showed the predicament of two young girls who are seeking an abortion; the first had been raped and was from a poor family, the second from a wealthy family seeking who had become pregnant after consensual sex. The movie highlighted the problems both girls faced in obtaining the procedure, while also touching upon the biases shown by untrained service providers who perform the procedure at high fees and in unsafe and clandestine clinics. The film also covers the use of Misoprostol as well as religious and legal aspects of abortion. The screening of the movie was followed by a robust discussion on the content and presentation of the movie which was appreciated for its bold stances and rights based approach.
Later Ms. Kirmani also shared her personal experiences and why she is so close to the cause of right to safe abortion. Most participants requested for a copy of the movie so that they can use it in their trainings, awareness sessions and media sensitization meetings and hence an important advocacy tool was disseminated.
Session3:  
Amina Mazhar, Country Director of Ipas Pakistan, gave participants an overview of the Pakistan Alliance for Post abortion Care (PAPAC), along with an introduction to the essential elements of the post abortion care (PAC) framework. The Pakistan Alliance for Post abortion (PAPAC) is a national network of service delivery organizations, NGOs, government agencies, donors, UN bodies and professional associations, which aims to reach wider stakeholders, including the media and community-based organizations. She also talked in detail about various safe methods and routes of access to safe abortion and the life saving qualities of Misoprostol.
PAPAC members, by sharing information, experiences and collaborating on strategic thinking and planning, hope to ensure increased access for women to quality post abortion care and related reproductive health services, including family planning.
Dr Marium Waqas, Programs Coordinator, Ipas Pakistan spoke about the organization's Values Clarification and Attitude Transformation (VCAT) workshops and their goals, which help address the stigma and taboo surrounding abortion.
The meeting concluded with thank you remarks from Dr. Tabinda Sarosh and a vow of solidarity and unity from all the participants. The participants committed to share their plans of actions/advocacy to eliminate unsafe abortion. Forms for the membership of Pakistan Alliance for Post Abortion Care were distributed and filled by non-members.
Press Coverage: http://www.thenews.com.pk/Todays-News-4-134618-890000-abortions-take-place-in-Pakistan-every-year
(999)