Access and Barriers
Nari- Bandoph (a female friend): Hotline on Misoprostol use, Bangladesh
Maternal mortality has declined considerably in Bangladesh over the past few decades. Some of that decline—though precisely how much cannot be quantified—is likely attributable to the country's menstrual regulation program, which allows women to establish non pregnancy safely after a missed period and thus avoid recourse to unsafe abortion.*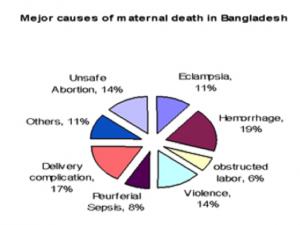 An estimated 646,000 abortions every year in Bangladesh. In 2010, at least 572,000 unsafe abortion procedures led to complications. In 2010, 102 women died (in health facilities) from complications  of abortion. Number dying outside health facilities unknown.
Maternal mortality in Bangladesh has fallen by 70% between 1990 – 2011, partly due to safe and legal MR treatment from 800 to 240 per 100.000 live birth.  19% of maternal mortality caused by PPH where as 14% by unsafe abortion and MR.
Abortion Law and Menstrual regulation
According to penal code of 1860, induced abortion is permitted in Bangladesh only to save the life of the mother . In 1976 the Bangladesh National Population Policy attempted to legalize first trimester abortion on board medical and social grounds, but legislative action was not taken and restrictive legislation remains. In 1974 MR was encouraged by the government and does not come under the provision of penal code section 312 in regard to abortion because pregnancy can not be established.
Menstruation Regulation"(MR) is one of the methods used in the national Family planning program. MR is now recognized as an interim method of establishing non-pregnancy for the women who is at risk of being pregnant . According to law,  MR is allowed until 10 weeks after last menstrual period if performed by a physician and until 8 weeks after LMP if preformed by other trained practitioner. MR is performed by MVA method upto 10 weeks  and some studies have been undertaken on MR with Medicine (MRM)  upto 9 weeks, but it is still not available in Public sector.  Although, the food and drugs have permitted the use of Mifepristone and Misoprostol for MRM  and it is available as MM Kit at the local pharmacist. Misoprostol is easily available in the drug store for gastric use.
Nari Bandoph ( A Female Friend):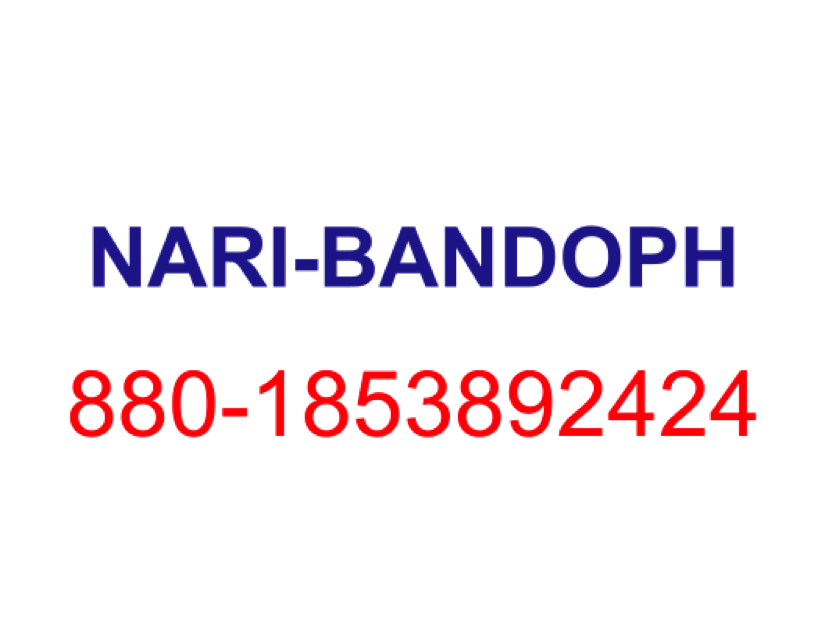 ASAP supported the training and launch of hotline (+88018532424) NARI-BANDOPH with the help of local partners, Community Life,  and in collaboration with Women on Waves and Women on Web. Participants underwent an intensive training on Misoprostol use  and hotline counseling. This was followed by a networking meeting where in various stakeholders from SRH field participated to disseminate the information on hotline further.
The hotline was launched in Dhaka on 24th October 2013, and in Rajbara on 25th October. Press releases were given in local newspapers to mark the launch of the hotline. This hotline will give information on Misoprostal use for PPH and safe menstrual regulation.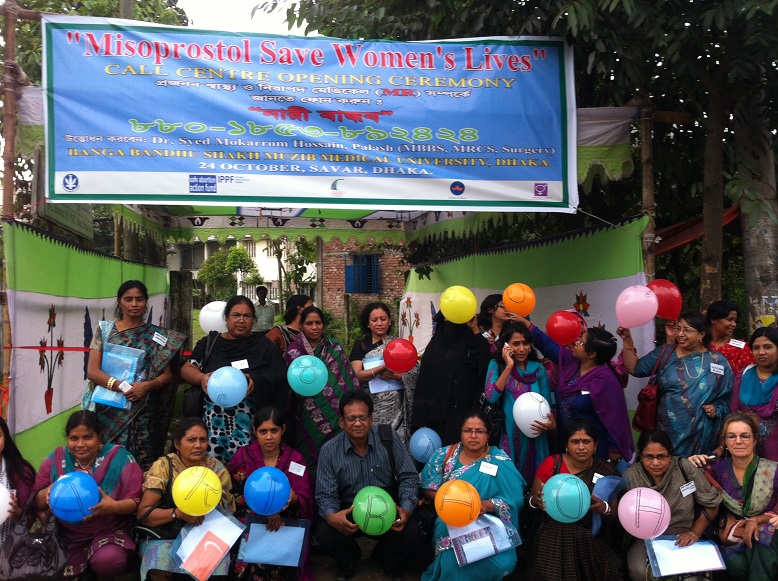 Women can self administer the drug and contact a hotline number if any more help is needed. The counselors trained are grass root level field workers who have got a rich experience in women's health and are motivated to take this forward. Some of the strategies planned for dissemination the hotline number are distribution of IEC material conducting awareness building  attitude transformation meetings and collaborating with other institutions who work in women's health and rights for referrals.