ASAP and CREA www.creaworld.org collaborated to host a one day meeting in New Delhi on Sat 20th June to share the findings of some studies on the issue , as well as to generate discussion on the politics of the two issues, the ground realities and the impact this is having on women's right to safe abortion in India. – See more at: http://asap-asia.org/blog/sex-selection-vs-safe-abortion-rights-how-did-we-get-here-and-where-do-we-go-now/#sthash.PjbDwfzJ.dpuf
People who have been reading about the debates on abortion rights are well aware of the hurdles a pregnant women faces and how they are sermonized and again and again counselled to 'think again' or provided 'alternatives' before ending an unwanted pregnancy, as though they have no capacity to do so without being told. Right from the agony that she suffers from conceiving an unwanted pregnancy, the stigma and social pressure, what she also suffers at the hand of our well- practiced, (and I abstain from using educated) gynecologists who hail from the same community, is not a secret anymore. Today let us hold to account the other 'institutional party' involved, namely the state authorities.
While there are a range of debates from perceiving a foetus as a living or non-living on an international platform with enlightened scholars, we are still faced with the reality on the ground where state authorities continue to struggle with the idea of a woman having an 'unwanted' pregnancy. For the authorities in India, a pregnancy from its conception is automatically relegated to the zone of the PCPNDT Act implementation (this deals with the prevention of sex determination before conception or during pregnancy).
With more than a decade long extensive focus on PCPNDT (along with family planning and population control in the background) and the novel scheme by the centre, namely, Beti Bachao Beti Padhao ( Save the Daughter, Educate the daughter) , authorities have come to recognise a foetus as a child. The idea is echoed in the communities too through the informational materials, government messaging and their out-reach programs. This surmounting pressure also tends to scare away the doctors who would avoid helping a woman in distress by denying her a safe and legal abortion rather than provide one and invite scorn and suspicion from the community and authorities.
Many of the officials are unaware, or misinformed or simply do not want to engage with another debate on women's issue. They think the MTP Act and PCPNDT Act are not two different Acts but in fact contradictory Acts which has only confused them further. In order to avoid the contradictions they neglect the MTP Act altogether. They often fail to comprehend that PCPNDT alone is needed to put a halt on the sex determination process, which is part of the larger process of sex selection.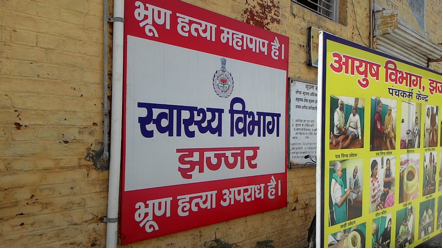 Banner outside CMO office claiming foeticide illegal and sinful
It is often seen that the authorities, while conflating the two Acts, either cause a woman to be denied a safe abortion for an unwanted pregnancy as provided under the MTP Act or then track and monitor her , violating her privacy. With the Beti Bachao Beti Padhao, (Save the daughter, Educate the daughter) they think of it as beti or a girl and a daughter and not as a foetus. While earlier messages used to say female feticide, now such messages say 'Foeticide is illegal and sinful', thus deterring pregnant women from seeking legal and safe options for ending an unwanted pregnancy. These messages also questions their morality and stigmatize abortions even further..
Another setback which we have faced is the implementation of a target driven approach of the authorities on the bodies of the women, which are no longer seen as persons and represented as merely a state object. 'BBBP guidelines to DC' exposes the state's approach at controlling sex ratio by setting up a target to increase sex ratio by 10 points each year. This reveals not only an abysmal lack of understanding how sex ratios are measured and what they imply but also shows the insane approach to women and their reproduction as a mechanical process, to be controlled by the State.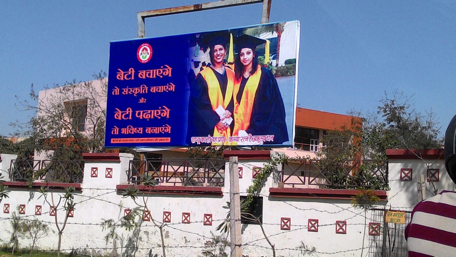 Banner outside Mini-Secretariat
There is again a clear rationale established for women in the society who are welcome only if they fit into a pre-conceived ideal of a 'good girl'. While authorities and many organizations chase the targets to raise many 'betis' under PCPNDT that we tend to forget the existence of the mother who has to bear the brunt.
The pressure of targets is passed down the line and the Anganwadi workers are then made to keep a vigilant eye on the women who are pregnant, or are suspected to be pregnant, or are planning to get pregnant. Such monitoring is an open secret amongst the authorities, not only amongst the government divisions but others as well. A Red Cross Society official informed us nonchalantly that he had raised the sex ratio in 10 villages alone because of his dedication for social service. On enquiring further, he said he vigorously monitors them and keeps tracking them until he reports to the authorities.
Many organizations and authorities do not wish to engage in communication about safe abortion because for them abortion is a moral issue. What else can explain the complete absence of any messaging about the MTP Act or legal provisions under which a woman can have an abortion? Why is the issue so neglected by the state? In our state the situation is even more difficult due to the absolutely negligible representation of civil society organizations to counter the state authorities or hold them accountable for such messages in the communities.
A senior official was quoted as saying that the water of the state has something that only bears sons.
While there is a clear need of extensive trainings to the health workers, community workers and implementers at all levels on the subject of MTP and the separate role of PCPNDT, it is also important to hold accountable the senior leadership.
Unless we all work together and at all levels, this enthusiasm to save the girl child is going to end up hurting many grown women.
(736)