International Women's Day
Meet the ASAP Change Makers!
Commemorating #IWD2017 we are celebrating work of our young women champions in promoting women's access to safe abortion in their region. This blog series is an attempt to acclaim their power as #ASAPChangemakers !!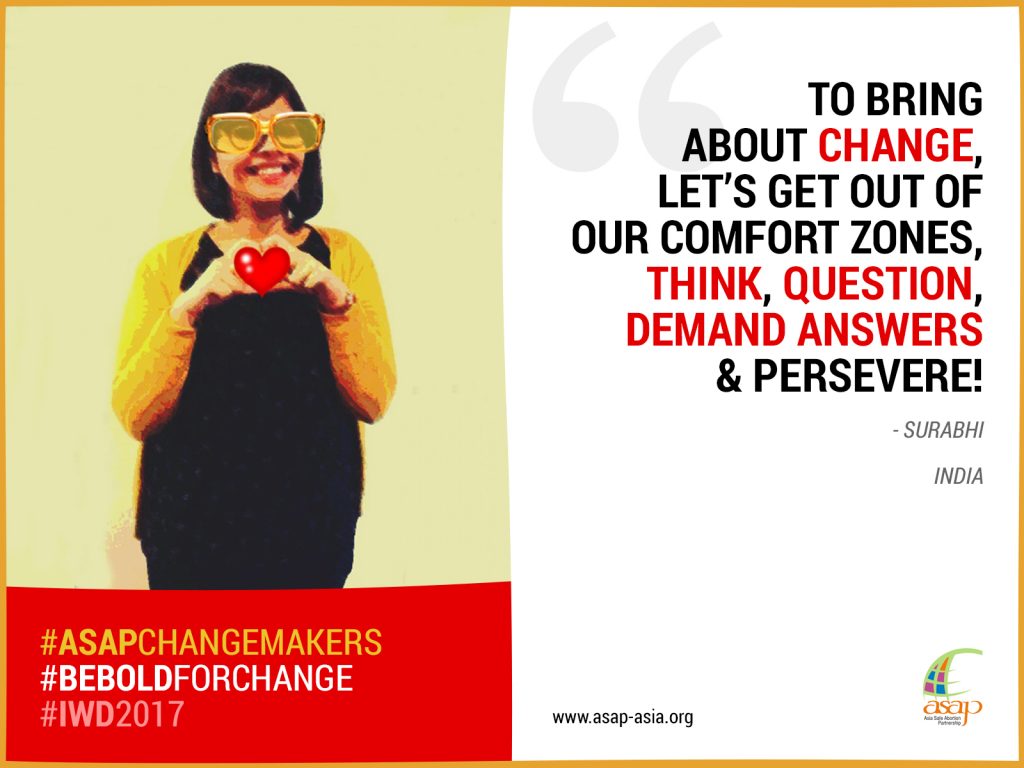 Youth champion Surabhi Shrivastava: I am unabashedly feminist about (almost) everything, and my feminist perspective influences every aspect of my life. My feminism, of course, also shapes the work that I do, which is basically geared towards engendering and advancing an open, non-judgemental and stigma-free discourse on anything and everything related to gender and sexuality, and more taboo and "controversial" a topic, the more fun it is to push for a conversation and dialogue on it! I am founder of an online platform for women in India to share their abortion stories and experiences, called Voice Your Abortion (one of its kind in India, go check it out on Facebook!), with the objective of ending the stigma, shame and silence that
My role, as a changemaker, is not only about standing up and speaking out in support of these issues, but also enabling others to do the same. This is because smashing patriarchy is a mammoth task, and we can only achieve it when we follow these three simple steps:
Empower ourselves by (re)gaining control over our bodies – from being able to choose what to wear and when to go out, to deciding who to sleep with, whether to have children, etc.
Enable others to empower themselves by creating a space that is accepting, non-judgemental and rights-affirming
Work collectively towards the shared goal of social justice for all
Lastly, I strongly believe that we don't need to work in an NGO space to bring about change. We can all do so in whatever spaces we occupy, be it our home, our office, our communities, our classrooms, etc. However, what's needed, is to get out of our comfort zones, think, question, demand answers and persevere . Brining about change, however small, matters. But where it occurs doesn't. And when we are aiming to overthrow patriarchy, and striving to gain control over our bodies (both are inextricably linked), we ought to be on the offence at all fronts. We can't afford to get complacent. We can't afford to back down.
Therefore, when it comes to bringing about change and claiming our rights, as one of my favorite online feminist posters proclaims: We can. We have. We will!
Youth Champion Anika Binte Habib:  "It is indeed imperative for youth to involve ensuring gender equality in the society. As a young leader, I feel the need of my participation in the development agenda."
I became the youth champion of Asia Safe Abortion Partnership in 2015. From there my journey has started to build social movements on safe abortion rights as well as women rights. Gender inequality affects the very fabric of life and has deep seeded effects in all of the development plans of governments within the region, especially the Sustainable Development Plan goals have very specific sections about poverty amongst women, child mortality which has underlying effects coming from a woman's ability to choose to keep or abort a child which may or may not have been planned. As a part of the society, I feel the responsible to participate in the social construction and legal framework, which protects women.
This is how the journey of Youth Advocacy Institute for Development has started. The idea of this institution is to build a social movement to address women rights, and youth friendly health services. We believe a gender-discrimination free society where everyone gets equal rights to live with dignity. One of the main objectives of YouthAID is to bring diverse people who would work on the social cause collectively to achieve a greater goal by doing advocacy level of work. Behavioral and social change communications, advocacy, campaigns and building social movements are the main working areas for YouthAID to bring gender equality in the society.
Most of my work is related to Sexual and Reproductive Health and Rights (SRHR), gender equality, women rights and youth friendly health services. I believe it is very important for us to build a network, where we can bring positive social changes through advocacy and social and behavioral change communications. In addition to that, we also need skilled and experienced youth who would contribute to the social development.
Collective work of youth can bring development. I may sound dreamy but I truly believe that if we have youth who are sensitized then we can ensure rights for all.
Watch this space for more updates!