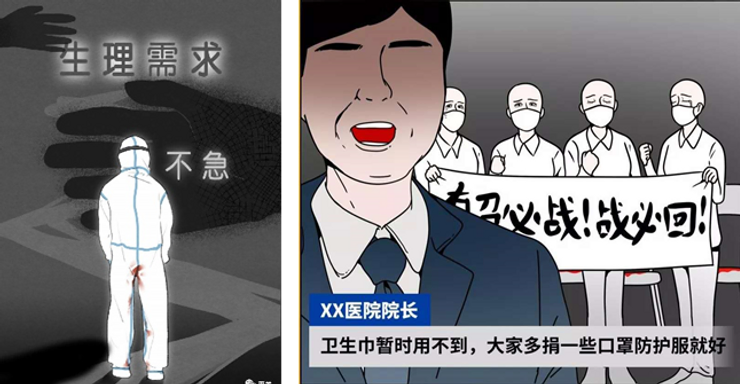 ASAP Conversations During COVID-19
#May28 : Menstrual Hygiene Needs in COVID-19 VS. Menstruation Shame Culture
As we enter #MenstrualHygieneWeek to celebrate Menstrual Hygiene Day on #May28 across the world, we spoke with alumni Youth Champion from China, Jingyun 'Iris' Pi as she threw light on the conditions of female health workers in #China and their menstrual health issues as they work for long hours to fight #Covid19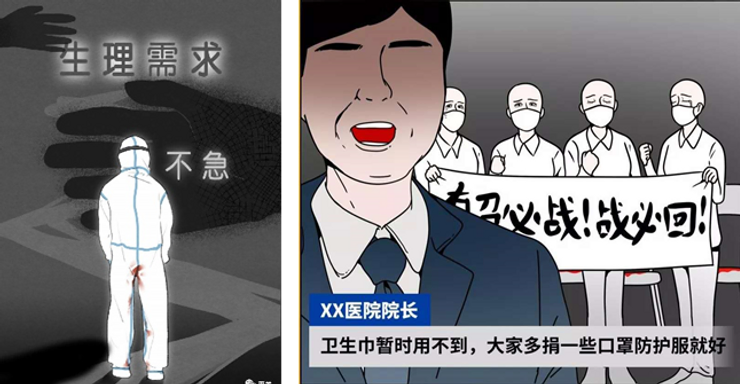 The left picture saying menstrual hygiene need isn't urgent comes from https://mp.weixin.qq.com/s/0ooAwtzhgIssxF-5ggPhvg. The right picture saying sanitary pads aren't needed for the moment and please donate more medical masks and personal protective equipment and comes from https://mp.weixin.qq.com/s/k5jbNEB2xtvZ2Gz6iw3q9Q.
How regularly should a sanitary napkin be changed? The answer is 2-4 hours. How can female health workers manage this when they need to work for 10 hours per day in protection gear? Can they consume one protective suit to change a tampon or pad every 2-4 hours when there is a huge shortage of protective clothing? The answer is no one knows and cares because female health workers' normal menstrual hygiene needs are treated as special women's needs in Chinese context, not prioritized. When I search online about female menstrual hygiene aid and management during 2003 SARS pandemic and 2008 Wenchuan earthquake both on Chinese and English websites, I find little relevant information.
Masks, gloves, medical goggles and protection gear are all on the list of emergency aid supplies, but not menstrual hygiene products such as tampons and pads. The first person in mainland of China to bring up this need was Stacy Liang, a Weibo blogger and founder of Sister Battle Safe Operation (Jiemei Zhanyi Anxin Xingdong). When Stacy proposed online to donate money to buy tampons and pads for female health workers in Wuhan and other cities of China, she was mocked. Even when these menstrual hygiene supplies are donated, they cannot be delivered to the hands of female health workers because these supplies cannot be transported through the green channel for relief supplies. When some donors called some hospitals to consult their opinions about donating menstrual hygiene supplies to them, surprisingly the answer they got is "no need, thanks."
Unfortunately, the brutal reality is more and more female medical workers continuously ask for help online because they don't have enough menstrual hygiene supplies and some medical workers even wear their protective clothing with period blood on it. According to one report from the Media of Hangzhou, a nurse worked in a negative pressure isolation ward for 4 hours. When she came out of the ward and took off her protective clothing, half of her body was covered with period blood. According to Stacy Liang, 600,000 pads are needed, assuming a three-day period per person per month and she only changes pads twice a day considering the existence of over 100,000 female medical workers in Hubei Province.Chinese Female Health Workers' Menstrual Hygiene Needs in COVID-19 VS.
Menstruation Shame Culture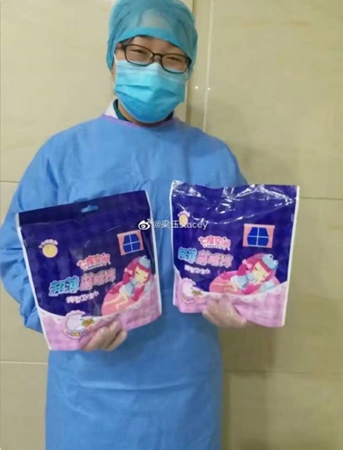 Illustration 2: The picture comes from Stacy Liang's Weibo post, in which a female health worker is holding two sanitary panties (a kind of menstrual hygiene products combining pad and adult diaper) donated by Stacy Liang's volunteer team.
There are numerous reasons why female health workers' basic menstrual hygiene needs are being overlooked. The most important factor behind it is the culture of menstruation shame in China. Because of it, it becomes unlikely for Chinese female health workers themselves to ask for help regarding their menstrual hygiene needs. Because of it, female menstrual hygiene products are considered unnecessary compared to other seemingly more urgent emergency aid supplies and the donor community didn't prioritize them. Because of it, the normal menstrual hygiene need is treated as special need and menstrual hygiene product donation got rejected and denied by the authorities of some hospitals.
The taboo surrounding the topic of menstruation in China has being existed for a long time, especially among older generation. Menstruation and menstrual needs are culturally considered as unspoken private needs of women. They cannot be talked about in front of men. Women are taught not to hold a tampon or pad in public. I still remember one of my female Chinese friends told me that she got scolded by her mom only because she put a box of her pads on the desk instead of a drawer. Her mom told her it is very rude and uncivilized to put menstrual hygiene products in a place where everyone can see, especially if there are men there.
In Chinese, menstruation is called "great aunt" (Da Yima) because people cannot say period or menstruation (Yuejing) directly. When Chinese girls and women in rural areas go to supermarket to buy menstrual hygiene products, these hygiene products are packed in black plastic bags because they cannot be seen by people. In one CCTV broadcast interview during the peak time of COVID-19 in China, CCTV cut off the sentence that I am on period, therefore there is a pain in my abdomen said by a female medical worker because period and menstruation aren't supposed to be said in public.
Both the lack of awareness of menstrual hygiene need and the existence of the culture of menstruation shame come from the patriarchal culture which considers women as secondary, the fear of female sexuality which uses this stigma and silence as a form of control, and a lack of comprehensive sexuality education (CSE) in China. After six and a half months of work on CSE in China, its implementation in the Chinese education system still has a long way to go. Under such circumstances, breaking the silence of menstruation shame is one of the small steps that everyone can do in their daily lives.
China is capable of providing basic menstrual hygiene supplies for Chinese female medical workers in an emergency like COVID-19. What all we need is to provide CSE in and out of school, awaken, cultivate, and spread gender consciousness, and make a standardized and systematic menstrual hygiene management response in emergencies. What happened in Wuhan and in this COVID-19 epidemic could happen in another disaster or emergency. The female healthcare workers I mentioned in this article could be fire fighters, police, soldiers, pilots, or construction workers in future emergencies. They could also be the "victims" of the next emergency if we do nothing to change the current circumstance.