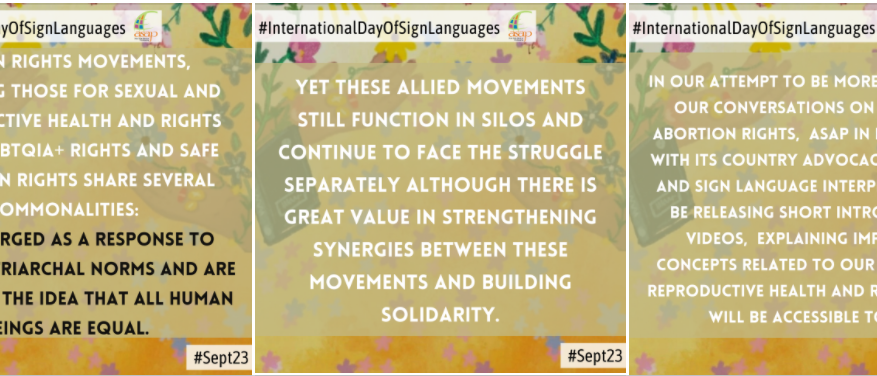 ASAP Conversations During COVID-19
Deaf community engagement: A Sign of the changing times – Interview with Saudamini Pethe
As we work towards building an inclusive safe abortion rights movement, ASAP has been working closely with the deaf community and sign language interpreters in order to increase the communication and exchange of information both ways. There is very little work being done with sexual and reproductive health rights with this community and we found that many of the key words or concepts we use don't even have the equivalent sign language signs, thus making it almost impossible to convey the accurate rights based information.

Saudamini Pethe answered some of our questions about the situation in India. She is the first Deaf Woman (DLAW Fellow) pursuing Law in India. She has been working in the field of Deaf Empowerment since 2008. At present she is the Director, All India Foundation of Deaf Women and Board Trustee of Access Mantra Foundation. She has finished her Master's in English Literature, and has secured a Scholarship from Deaf Legal Advocacy worldwide to pursue law studies in India. Currently she is pursuing L.L.B. three years course from 2019. She aspires to use her law degree to raise awareness in India about the importance of sign language for the Deaf community.
Can you tell us what is the impact of this lack of information and access on the lives of women and girls?
The lack of information and access has given intense identity crisis and inability to understand their rights on their bodies as well as on decision making capacity of Deaf women. That abortion is legal, that they have a right to abort an unwanted pregnancy, and hold the ability and power to decide whether to keep the pregnancy or not is still a fact unknown to majority of Deaf women.
Not just the right to decide but the right to a Safe abortion, remains a fable for the Deaf women. Usually, parents try to hush such things in the name of family honour and try to get the pregnancy terminated through illegal clinics with unhygienic conditions.
What is the autonomy and agency that they have over their own bodies and lives? Specifically in issues of sexual abuse, marriage options, to have children or not.
The majority of Deaf women live under blatant discrimination that can be defined as intersectional discrimination. Being a woman, they already have to undergo patriarchal domination but being a woman with a disability means suffering from double discrimination, of staying put at their homes. Most of these women go to special schools which are not equipped enough to teach them according to their disability needs.
The Deaf community largely relies on communicating effectively in Indian Sign Language which is looked down upon often as a set of random gestures. These prejudices create negative feelings such as embarrassment among the hearing community with family members and school teachers who do not know sign language.
The autonomy of Deaf women in such circumstances is impossible to negotiate. There are a lot of overlapping issues that comprise such a negative situation. The lack of accessible sex education and many more hindrances such as reluctance to send the Deaf girl child out of home, tendency to cocoon such child through forced speech therapy leading to language deprivation, and ultimately to delayed cognitive and informative development are few of the problems that Deaf women have to face in their daily lives. The struggle is an everyday fight for such women who cannot connect with their own family members due to lack of communication.
In case of married Deaf women, the decisions are made by in-laws and the parents of Deaf women encourage their Deaf daughter to abide by the patriarchal norms and listen to in-laws. The idea of the right of a woman on her own body is still not known or digested among families of Deaf women.
Why is it important for the Deaf community to be more involved in the sexual and reproductive health and rights movement?
The ability to recognize one's feminine identity is an important aspect for Deaf women to understand and learn to get empowered. This aspect can be achieved only if the Deaf community realizes the legal perspectives of right to abortion for women at large.
In addition, Deaf women can understand and realize their sexuality without having to undergo trauma or societal judgements when they know that abortion is a legal right that they can avail freely and safely. Besides this such women can feel empowered and decide about their careers when it comes to starting a family. They can realize the legal right aspect that facilitates a positive impact on their career decisions and financial independence.
Why is it important for the sexual and reproductive health and rights movement to be more inclusive of the Deaf community?
The Deaf community has been side-lined drastically over the decades and has suffered from immense discrimination due to lack of access to information and education. To mainstream the Deaf youth, both men and women should be the main goal if we want to eradicate this discrimination. We have experienced a huge gap between the Deaf and the hearing world, especially while translating educational videos about feminism, and related concepts such as different types of sexuality, the notion of consent and so forth. The Deaf community's exposure in India to such advanced vocabulary amounts to a very meagre percent and translating such concept that too within a set amount of time frame becomes a herculean task. It is possible to bring about awareness at much earlies stages of life with the basic concepts and then moving on to more sophisticated terms. Hence it is important that sexual and reproductive health rights movement becomes more inclusive of the Deaf community.
How can we move forward in a way that bring mutual benefit?
ASAP can offer awareness workshops on a regular basis to schools and NGOs that provide insights into the concept of MTP Act. It can start with very basic concepts and involve Deaf signers/interpreter along with hearing interpreters to facilitate better and clear understanding of the various topics related to MP Act. A Deaf interpreter can adapt to the learning needs of the Deaf viewers and present the topic much more clearly. Once the Deaf learners find the workshops are of interest and provide insightful knowledge word of mouth can result in far more better networking and outreach for ASAP. A unified effort of advocacy is then possible wherein the hearing, disabled and underprivileged can all come together and create a much more impactful fight for their rights thereby leading to mutual benefit.
We are very grateful to Saudamini for these insights and her ongoing collaboration with us. We are delighted to inform you that ASAP now has a series of primer videos in sign language that explain core concepts of SRHR for the Deaf community. They can be found here