Archives
Celebrating Youth Power! #IYD2016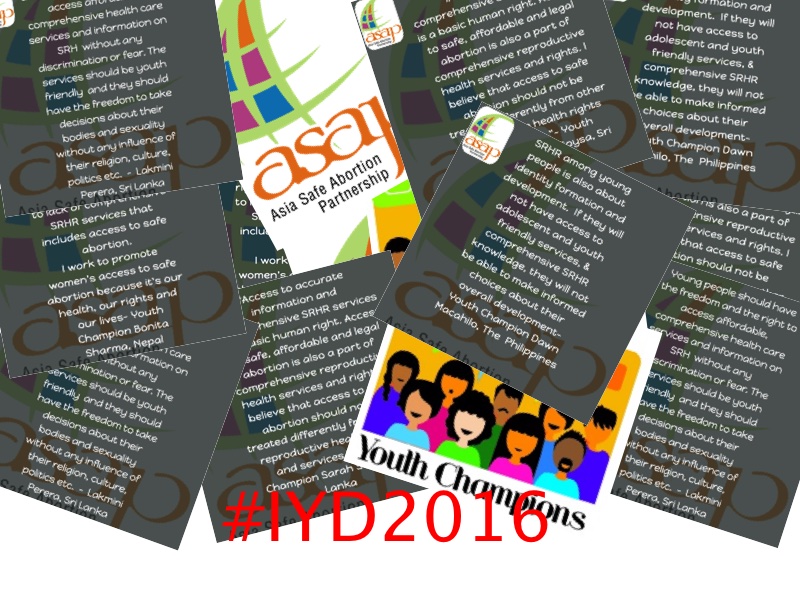 The theme of the 2016 International Youth Day is "The Road to 2030: Eradicating Poverty and Achieving Sustainable Consumption and Production". This year's Day is about achieving the 2030 Agenda for Sustainable Development. It focuses on the leading role of young people in ensuring poverty eradication and achieving sustainable development through sustainable consumption and production.
SDG's are important; they provide the vision and global development agenda for the next 15 years. They also spell out parameters for allocation of global financial and human resources for achieving a sustainable developmental global order by 2030. For the field of sexual and reproductive health and rights (SRHR), the SDGs include several relevant goals and targets such as those related to health, education and gender equality. The goals and targets encompass many key aspects of SRHR, including access to sexual and reproductive health (SRH) services, comprehensive sexuality education and the ability to make decisions about one's own health.
Today, people all over the world are unable to exercise their sexual and reproductive rights as they face stigmatization, discrimination, violence, and other barriers. Youth and adolescents are a group whose lives particularly gets effected by these barriers. According to WHO 'every year, some 3 million girls aged 15 to 19 undergo unsafe abortions.' The Youth Statement on the 2030 Agenda for Sustainable Development calls upon Govt's to acknowledge the SRHR of young people and adolescents worldwide.
"Of particular importance to us as young people is the field of sexual and reproductive health and rights (SRHR). SRHR plays a central role in achieving sustainable development, as it cuts across all sectors with links to health and development, gender equality, human rights, poverty, migration, education, sustainable economies, security, climate change, and environmental sustainability. It is a fundamental human right for every person, including young people, to be able to have control over their own sexuality and reproduction." Read full statement here
At Asia Safe Abortion Partnership (ASAP) we have been working with youth from across the region and building a group of sensitized and aware young people who are actively engaged in advocating for safe abortion as a right. ASAP provides small grants to youth champions for carrying on their advocacy work, though small in number youth champions have been able to launch some very meaningful and transformative initiatives through these grants. Read about them here- Small Grants . To know more about ASAP youth programs please visit- http://asap-asia.org
This International Youth Day our youth champions are sending out some very powerful messages calling to ensure access to comprehensive sexual and reproductive services that include access to safe abortion. The intention is to build awareness that abortion stigma is real and it hurts women and to underscore the importance of abortion as an essential social good and a human right in the 2030 agenda.
Share these messages and help us make some noise- #IYD2016