What's on Feb 12, 2013? Our dance on Twitter of course! Two days before we all rise to protest violence against women, ASAP, Bell Bajao and TARSHI will hold a discussion on this violent culture, and how it affects men and women! Follow us @asapasia and tweet with #WhosInControl to tell us what you think!
But here's a quick look at where ASAP will be rising on Feb 14, V-Day!
Mumbai, India:
ASAP's staff will be joining the city of Mumbai at Bandra! If you will be there too, give us a shout on discussions.asap@gmail.com ! We would love to meet, and talk!
Check out the details: https://www.facebook.com/events/328240257285019
Colombo, Sri Lanka:
Youth Champion Dakshitha Wickremaratne will be rising with Colombo. Are you in the city too? Then drop whatever you may be doing, grab a pair of dancing shoes and join the crowd. And the buzz is… there's to be a flash mob too! Don't miss the fun.
Check out the details on Facebook: https://www.facebook.com/events/554624427881006/
Gönyeli, Cyprus:
Youth Champion Fezel Nizam will rise with Gönyeli, and she promises that a Tsunami of feminists is about to hit the town. You don't want to miss this wave!
Check out the details on Facebook: https://www.facebook.com/events/548177601868884/?fref=ts
Lucknow, India:
Youth Champion Esha Saraswat, and her organization are bringing OBR and V-day to Indian villages, by creating pamphlets in Hindi! These could be useful to you too. Take a look at the picture below, download and share it widely!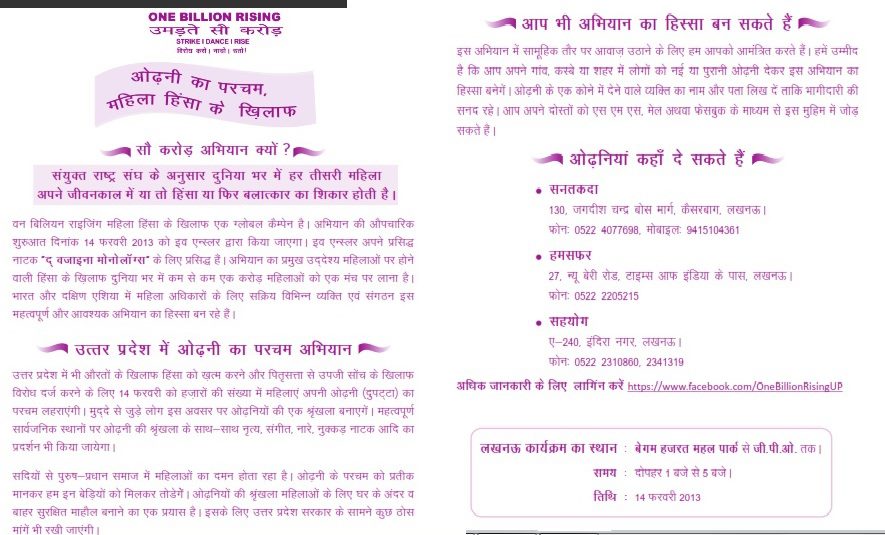 Pune, India:
Youth Champion Preet Manjusha and her organization has come up with their own OBR song! Here it is. Now you can dance to these tunes wherever
(521)