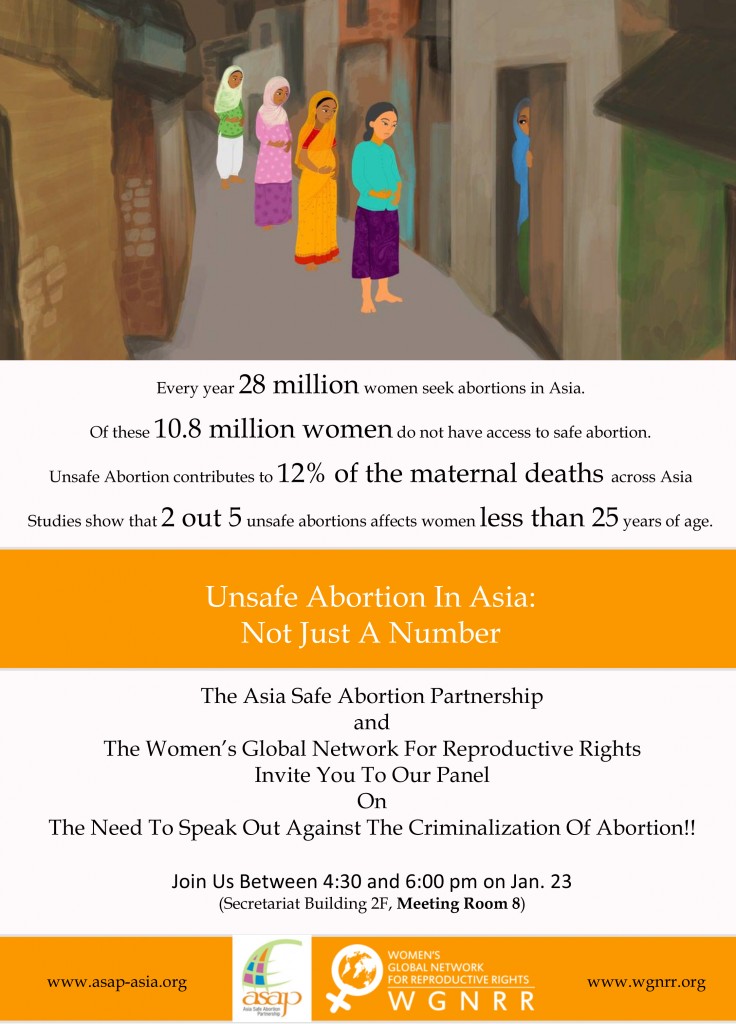 The World Health Organization estimates that every year about 47,000 women die from unsafe abortions worldwide. In Asia alone 28 million women seek abortion. About 10.8 million are denied access to safe abortion. Thousands suffer from complications and several die. Studies show that 2 out of 5 of these are young girls and women below the age of 25.
These numbers should really shock everyone. Yet unsafe abortion is not just about the numbers. When medical technology is available and when safe abortion can be provided easily, it is terribly unjust that religious beliefs and restrictive laws force women to risk their lives and jeopardize their futures through unsafe abortions. Unsafe abortion is therefore a human rights issue before anything else — one that needs to be addressed right away, particularly as previously liberal laws are being re-evaluated, and new barriers are being put in place.
At the 7th Asia Pacific Conference on Reproductive and Sexual Health and Rights, held in Manila , ASAP and WGNRR had the opportunity to address the denial of abortion as a human rights violation and to demonstrate that unsafe abortion is really a crucial and yet preventable public health issue of our times.
At a Panel titled "Unsafe Abortion: Not Just A Number" ASAP and WGNRR advocated for safe abortion worldwide and then focussed very specifically on the Philippines.
Dr. Suchitra Dalvie, the coordinator for the Asia Safe Abortion Partnership, and the Steering Committee member for CommonHealth spoke about the situation worldwide. "Women are dying from unsafe abortions, and so you would think the answer is obvious: provide safe abortions. It's not really rocket science."
But sometimes, one wishes it were rocket science; there is very little contention over funding  interplanetary missions and building space telescopes that can peer billions of years into our past, but an issue like unsafe abortion remains poorly funded and very controversial even today. Compounded by patriarchal definitions of gender and sexuality, the issue of unsafe abortion is emerging as one of the biggest challenges for the women's movement worldwide.
While discussing the barriers that still stand in the way of women's reproductive rights, Dr. Dalvie drew special attention to the emerging issue of sex selection and the barriers that are being enforced on abortion by conservative groups. The desire for a child of a certain sex, when compounded by patriarchy, misogyny and population control policies that restrict family sizes spawn son preference or daughter unwantedness, both of which are issues rooted in gender discrimination. Preventing safe abortion in order to prevent sex selection only furthers this gender discrimination, she explained.
While in countries like the UK or India, liberal abortion laws are being threatened by emerging barriers, others like the Philippines are only looking forward to their first major struggle against a penal code that criminalizes abortion. The RH Bill of 2012 provided the country an unprecedented opportunity to begin discussions on unsafe abortion.
ASAP's new animated film also highlighted some of the barriers to safe abortion.

Joy Saigado, whom WGNRR had invited to speak, outlined the causes for abortion among Filipino women. The cost of raising a child, and of raising large families, often forced women to risk unsafe abortion, as did the lack of contraception and an inability to control their fertility. Women who survived unsafe abortion often suffered physical trauma and disability, and also psychological trauma from the stigma. But religious fundamentalism posed an insurmountable barrier often perpetuating the stigma and guilt women feel, and also interfering with the State's efforts to decriminalize abortion.
Speaking after Joy, ASAP Youth Champion Lady Lisondra shared her insights and stories on how the community perpetuates abortion stigma. Catholic schools subjected young children to anti-choice images from a very young age, she explained. "I was in 4th grade when we were asked to watch these images. We did not understand what it was, but began to think it must be something very wrong." She also spoke about how the Catholic Church equated women seeking abortions to mythological characters called Swang, that ate fetuses in their wombs.
Lady went on to nursing school, where she was instructed to provide abortions and post abortion care, without using anesthesia. While a few like Lady, became champions of the movement for reproductive rights, others were victims of a mass movement to demonize abortions.
The Panel also featured the trailer of an upcoming movie that analyzes the complex politics of this stigma against abortion. Produced by ASAP with Youth Champions Lady Lisondra and Sarah Jane Biton, the movie will feature interviews with experts and with women seeking abortions.
The Youth Champions will also run a blog and start a social media discussion using the hashtag #TMB (Tama Ba? Or Is It Justified?). The blog will ask some very explosive questions based on the shame and guilt women have been forced to feel about a choice that was always their right to make. It will ask people to question if this stigma is justified and if such a restrictive law is fair.
The Panel ended with a Q&A which further outlined the obligation of medical providers to make space for humane and non-judgmental abortion services. Providers from other countries shared their feelings about working in non-stigmatic abortion clinics, while those from parts of the world where stigma was high spoke about the need to battle this stigma.
We hope that these voices will grow into a resounding demand for reproductive justice and rights!
(797)