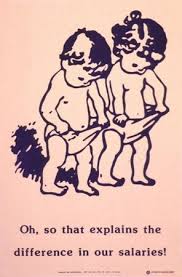 The Race to Gender Equality
The words gender, gender roles and gender equality are not unknown to all. Even a layperson understands what these words stand for. But it is a different matter that people do not want to realize the meaning of the words, change it into their attitude and behavior, implement in their programs and stand up for what these words represent. The reason I say this is because "Gender, Gender roles and Gender Equality" have been limited to conference agreements, into papers, course curricula and government strategy plans.
If I am wrong, please do correct me.
The 1994 International Conference on Population and Development (ICPD), held in Cairo, as well as the Conference for Elimination of Discrimination against Women (CEDAW) held in Beijing linked the human rights of men and women to the gender-related values and norms that determine people's well-being. Despite this, women are still fighting for their rights. In this blog I refer to "rights" as the right to be free from any kind of violence. I guess you guys have heard of sexual harassment, rape, sexual abuse, street harassment, workplace violence, female genital mutilation, honor killing, marital rape, etc.
So many conference agreements and decision have made many proposals in the area of women's empowerment but there are many challenges to translate human rights based approach into developmental programs.
In our society women still do not have the power to take decisions about their own body, choose their life partner, use contraceptives, access healthcare services and many more critical areas of life. In Nepal "Gender Equality" has been understood as "Women's issue". But it is a universal truth that women cannot achieve gender equality and sexual and reproductive health and rights without the cooperation and participation of men.
When I was in school, I had to write an essay on "Women and Men are equal". My teacher used to teach us "Women and Men are two sides of same coin. Women and Men are wheels of a Chariot." This means women and men are equal and important parts of a coin, without which coin is valueless. But it took me many years to get respect from my male friends in school and college.
Now I work in an NGO and have to travel by a local bus. Everyone who is reading this blog might have experienced public transportation sexual abuse. It is another universal truth "1 out of 3 women has been abused during her lifetime". Since I have to travel by public transport, I regularly face this sexual abuse by male passengers, sometimes by driver and sometimes by his assistance. But when I shared this with my family and requested to be picked up from my office I heard "Dear, it's natural and common among young girls". Recently I had conversation with my cousin. He said "di, you and other girls talk about gender equality. But you ask for reservation seats in public transport. If you are talking about equality, you should also have strength to stand and travel on a bus."
So, I realize that people are studying for higher degrees only for passing the exams. Behavior and attitude change and transformation are still a question. 
I do not know about others but I do still live in a Patriarchal society. I am mostly surrounded by male members of the society. I am the first girl in my family who has been doing her Master's Degree. I love my subject- Gender Studies, but as I started to analyze gender inequality within my family and society and became to be vocal and take my own decision, I have been labelled as a "Feminist". But people who gave me this prestigious honor do not know what the term stands for or that I love to be called a feminist!
Men have the privilege to take their own decisions, have access, opportunities and choice for many resources. In a family, decision depends upon men. Why cannot men take this advantage and ensure that gender equality is to be achieved?
More interesting reads:
http://www.projecteve.com/gender-inequality/
http://www.cosatu.org.za/show.php?ID=2168
(891)