Originally Published on: Kumari, A Feminist a blog by Shreejana Bhajracharya, ASAP Youth Champion from Nepal.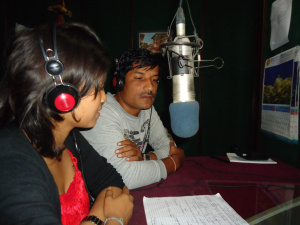 Bhaktapur Youth Information Forum in coordination with Bhaktapur FM 105.4 Mhz organized a radio talk show for half an hour today morning on the occasion of  "Global Day of Action for Access To Safe and Legal Abortion". The guests  invited to talk about safe abortion and its services in Nepal were Branch Manager of Family Planning Association of Nepal (FPAN), Valley branch Mr. Sharad Kumar Aryal and Youth Champion Ms. Shreejana Bajracharya (Myself). The Coordination for the radio talk program was arranged by another Youth Champion Ms. Prabina Sujakhu.
Mr. Sharad Kumar Aryal said, " It has been more than 10 years Abortion being legalized in Nepal. Nepal is a role model for other countries as it has very flexible laws considering safe abortion." Please Click Here to know more about Safe Abortion In Nepal.
He added, " It is not only safe abortion service. It is called as Comprehensive Abortion Care (CAC). It means high quality services on safe abortion by maintaining privacy and providing pre and post counseling services to women. Also trained service providers are skilled with respecting women's demand on safe abortion regardless of their age, marital status and other background."
Safe abortion is a human right. But most of the time women's right and sexual & reproductive health rights are treated as it came from another space. This might be the reason for stigma surrounding abortion in our communities. Safe abortion service is human right and for this we must break the silence.
Mr. Aryal further said," This is not the promotion of abortion services. It is an advocacy for every women accessing safe and legal abortion. Family Planning Association of Nepal, FPAN always advice for accurate use of contraceptive methods. Even though there might be contraceptive failure, unmet need of contraception and also lack of knowledge using contraceptive methods accurately leading to unintended pregnancies. In this  kind of situation abortion should be taken as an option. Nowadays there is another method called Emergency contraceptives which is available in the market."
Therefore to advocate and disseminate accurate knowledge on Safe abortion Globally today on 28th September the International Campaign for women's right to safe abortion is celebrated. This campaign supports universal access to  safe, legal abortion as a women's health and human rights issue. Also it aims to  support women's autonomy to make their own decisions whether and when to have children and have access to the means of acting on those decisions without risk to their health and lives.
Mr. Aryal expressed," Even if the service provider is trained and certified by Nepal government to provide safe abortion service and his service site is not certified and vice-verse, it is illegal. Both service provider as well as service site should be certified by Nepal government for providing safe abortion services.  If someone observes this kind of illegal abortion, he/she could inform to near police station. There is a provision of punishment too."
Even though Nepal has very impressive laws for abortion there are many unsafe abortion going on. There are different ways that leads to unsafe abortion. People in community uses herbal plants and insert them to uterus, using hard object like branches of trees and hangers, punching the stomach and even eating small pieces of glass. There are high number of women coming to service centers after complication due to unsafe abortion. Unsafe abortion even leads to death of women.
In Nepal young women below 16 years if seeks safe abortion service need consent to be signed by her guardians. It has been explained in abortion law guideline that guardians are not compulsorily young women parents. They can be relatives, friends, partner, brothers, sisters who are above 16 years. Even service providers could be the guardians to provide safe and legal abortion service to young women.
The radio program was a live show. It was on-aired today at 8 am. The program ended with special message from Mr. Sharad and Shreejana saying women have right to informed choices. There should not be any restriction by laws regarding women's health and rights. Government should be accountable to monitor safe and legal abortion services in the country. Safe Abortion should be free from stigma, discrimination and coercion.
(750)