Commemorating #IWD2017 we are celebrating work of our young women champions in promoting women's access to safe abortion in their region. This blog series is an attempt to acclaim their power as #ASAPChangemakers !! – See more at: http://asap-asia.org/blog/#sthash.xiPmkHnY.dpuf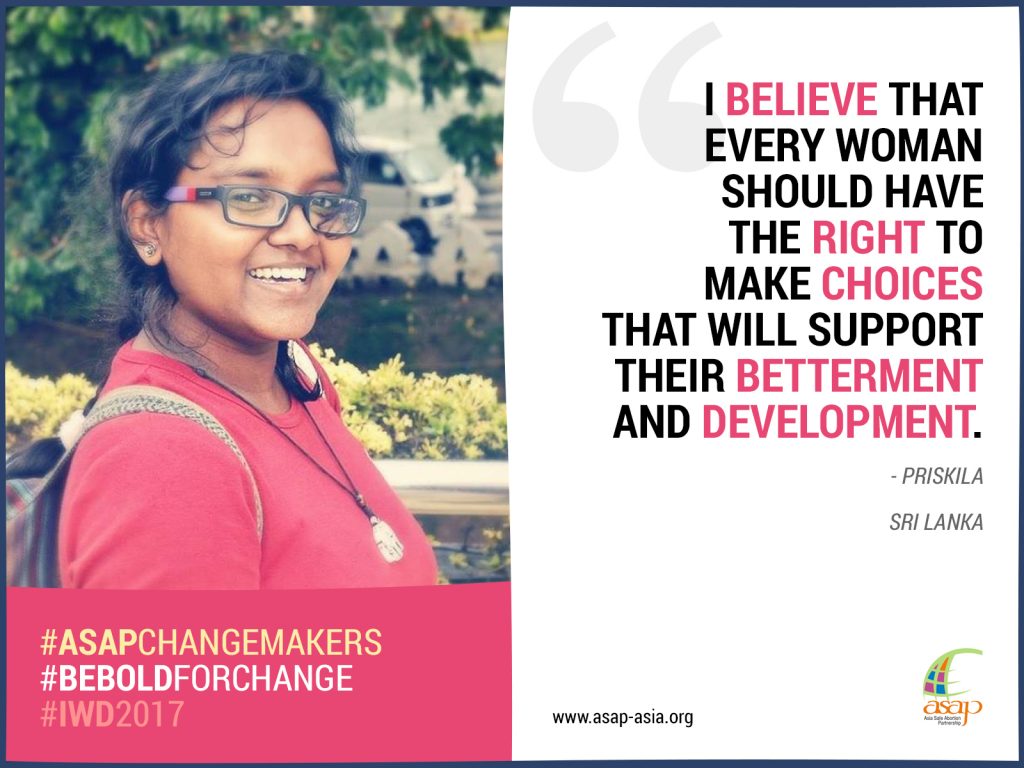 Youth Champion Priskila: I work with the Youth Advocacy Network Sri Lanka as a trainer and coordinator to create change agents in society. We work among young people in Sri Lanka by training and mentoring them to be peer educators and advocates in their communities. We also provide information on contraception and sexual and reproductive health.
Since childhood I have been baffled with the whole concept of acting like a girl, I found it puzzling that the same rules of conduct never applied to boys around me. As I grew I saw the guys became more independent while the girls were being controlled in several ways. I was appalled by the gender discrimination and stereotypes; it made me reflect on the gender biases and motivated me to work towards dismantling them.
I started my journey as a trainer on Sexual and Reproductive Health and Rights when I was 20. This is when I realized that the issues related to gender are far more serious than what I have been thinking. I learned and experienced many things. I realized that from the time a woman is born until the day she dies her life decisions are mostly made by those around her.
I believe that women having control over their body and making informed choices about their sexual and reproductive health is the key to women empowerment. I believe that young people should be the change agents in their society and should speak out. It is important that we raise awareness among them so that they could lead the change.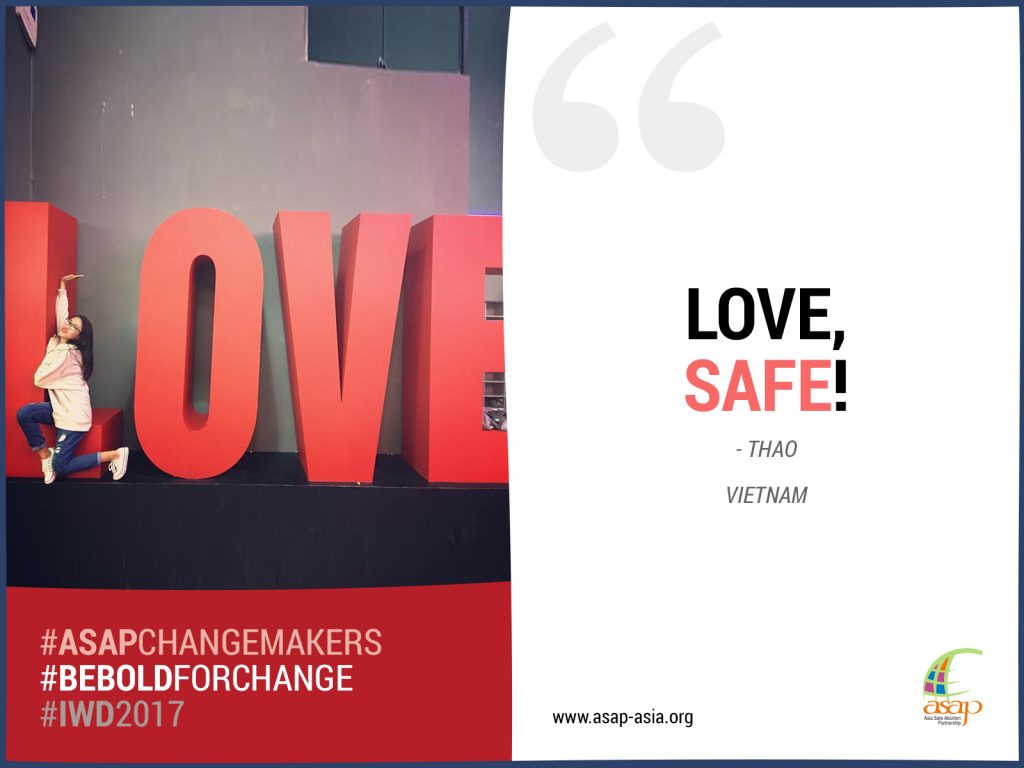 Youth Champion Nguyen Thao: I work as a youth program coordinator and research associate at Center for Creative Initiatives in Health and Population. I have participated in many training courses on SRHR, and have the knowledge, skills and experiences to share with other young people. These trainings helped me understand more about myself, believe in my ability, and know more about my rights
I trust that true change can happen only when women have control over their bodies, they are respected for the choices they make and are enjoy equal rights and access in all spheres. SRHR and is quintessential to women achieving over all well-being and young people can be the changemakers if they are empowered with right knowledge and resources.
Youth Champion Riti: It all started with the dream of becoming a doctor, the desire to bring about a change, to explore new horizons, to do something for the greater good.
A year after getting into medical school I realized that the knowledge given there just wasn't enough. As a part of extracurricular activities, I attended ASAP Youth Advocacy Institute.
At the end of the workshop, my friend and I looked at each other, almost disturbed by the fact that women in most of the countries are being deprived of making decisions about their own body, and are poorly informed about their Reproductive Rights.
Since then, along with a few colleagues, I have been advocating for Women's Rights and have been training young minds to do the same.
It's time we see gender as a spectrum instead of two sets of opposing ideals. This is possible only when men and women feel free to be sensitive as well as strong, freely live their life with a sense of self-worth, respect and dignity. The process of change is slow. It might not happen today, tomorrow, or in a few months from now, but it is happening.
And if I can accomplish my dream of becoming a doctor, I don't think there is anything in the world, which is impossible for anyone. United as one, we can change the world; we can make it a better place for everyone.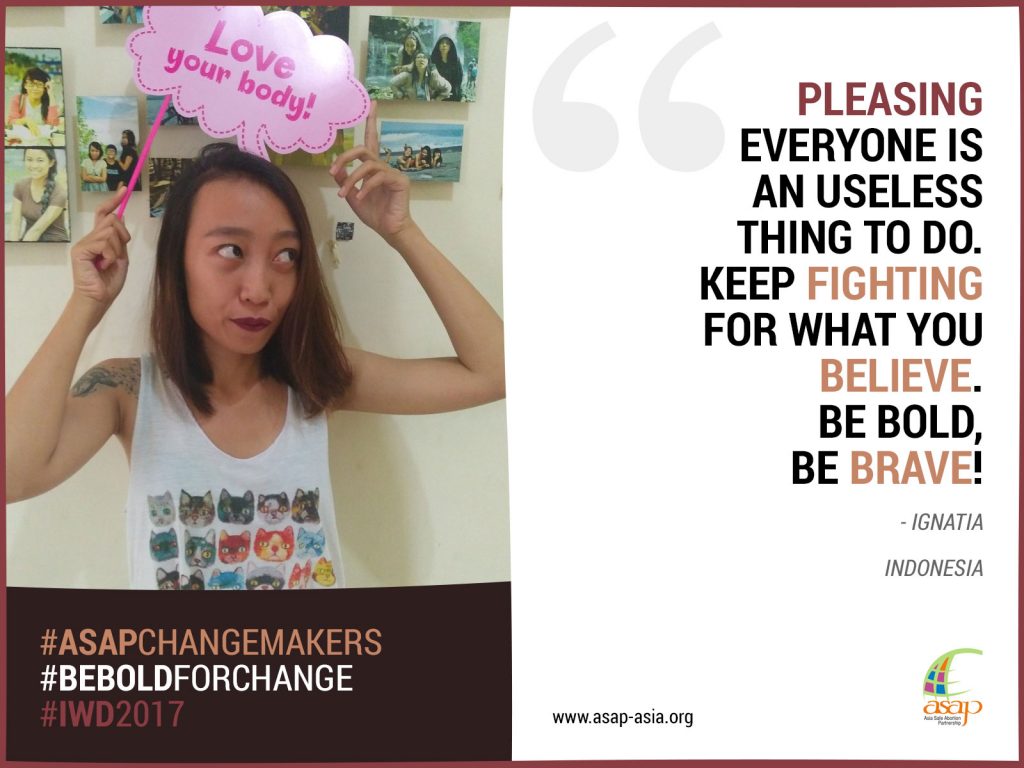 Youth Champion Ignatia Alfa Gloria: I believe that the rights we enjoy today should never be taken for granted since their lies a history of struggles behind them. After I moved to Jogjakarta on 2010, I was deeply concerned the stigma young people face with regard to their sexual health and started to work on the issue of SRHR.
I started joining campaigns and volunteering in various events, In 2014 I was invited by ASAP to join the youth advocacy institute, this was a life changing experience for me. In 2015 through ASAP small grants I organised a workshop on Gender, Sexuality and Creative writing Workshop; along with other youth champions we recently conducted the first local youth advocacy institute in Indonesia. Through these efforts I strive to break the taboo around SRHR and women's access to safe abortion.
As a woman, living in patriarchal society was never easy, especially when you start to speak out. Every person should have the freedom to speak and express them self, but when a women stand for their rights, society will see it as "too much". You will labelled as a rebel women, a less polite women, a bad women… (the list goes on). But I believe, when women keep fighting for their rights –regardless on what society thinks- it will give power and strength to other women to stands for what they believe. So, when you imagine a world safe for women, a world that respects women's choices and a world that upholds equality, you must strive to be part of that change!
(91)