Commemorating #IWD2017 we are celebrating work of our young women champions in promoting women's access to safe abortion in their region. This blog series is an attempt to acclaim their power as #ASAPChangemakers !!  – See more at: http://asap-asia.org/blog/#sthash.NqtPhJ8h.dpuf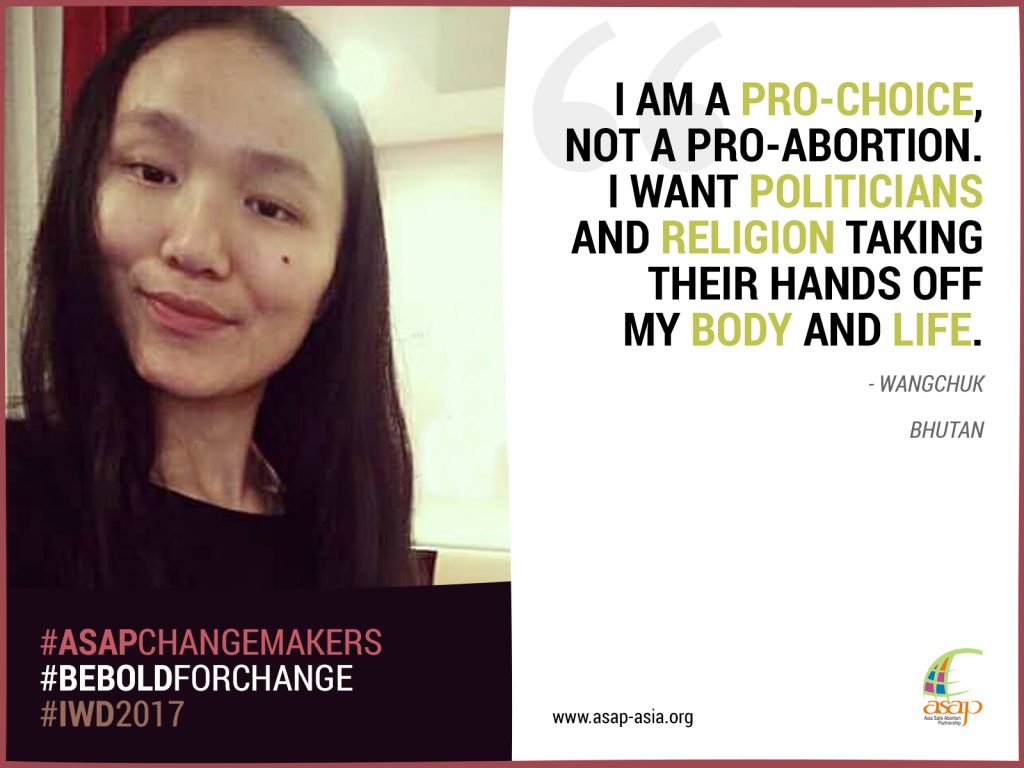 Youth Champion Wangchuk Dema: I have been an active volunteer and social worker all my life. I am a feminist, youth and young women's social advocate who works closely with young people at grass-root level especially for girls/young women empowerment and leadership. In line with this, I wholeheartedly work in the area of sexual and reproductive health and rights (SRHR) and fiercely advocate for safe abortion in Bhutan. I am currently an international coordinator for Y-PEER International (Asia Pacific region) and have served as a national coordinator for Y-PEER Bhutan. I have been a resource person in 6 National Training of Trainers for Y-PEER on SRHR and Peer Education (PE), and have also conducted various youth advocacy programs both online and offline. I have taken the initiative of going to schools and colleges to sensitize young boys and girls about their health and rights in terms of sexual and reproductive as well as significance of having education above all right now and not shying away from leadership qualities.
I intensely believe that every individual has the right to have control over their own body and that being said; women (specifically their bodies) in the society are more likely to be governed by the government or the men which is really distressing. With the help of some young people, I have been able to advocate about safe abortion to some health personnel after sensitizing to the young lot first. It was a great privilege for me to touch upon (un)safe abortion in the South Asia Young Women Leaders' Dialogue (#FemParl) earlier this year.
By and large, women are incapable of ruling their own bodies; it's the different aspects such as religion and politics, which prevents women from exercising their reproductive and sexual rights. Religion is often used as a system against women to keep the structure of patriarchy alive. I strongly believe that women should have the freedom to decide for their own bodies and life.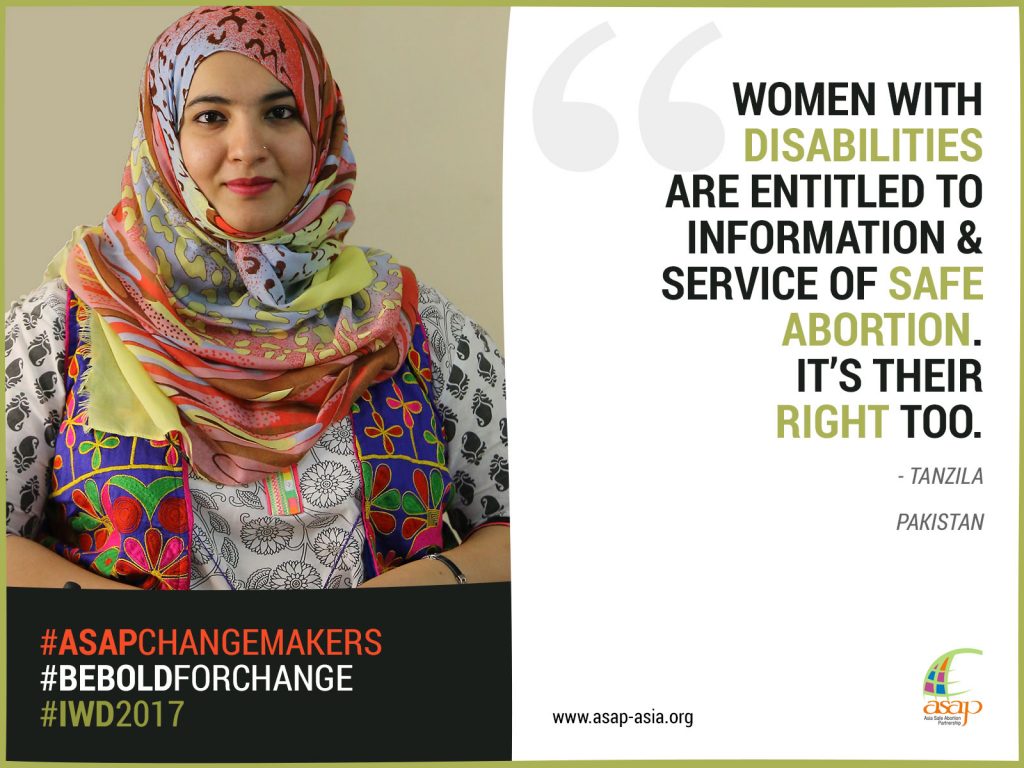 Youth Champion Tanzila Khan: Growing up with a disability in Pakistan, I have experienced a lifestyle that is all about discrimination, alienation, stigma and exclusion. And this is the case for more than 10% of the world population. But as time has moved on and I have moved from being in a state of isolation to a state of owning world problems as my own and working to solve them I believe that we all should be part of the solution, if not then we all are part of the problem regardless.
It all begins with realizing where women are standing today and as nations are progressing, unfortunately women and their problems are not a priority for many nations. One issue that really moved me was unsafe abortions taking place around the world. I took the challenge of diving deeper into this violation of human rights and came across many insights that could be a building block for a campaign. The fact that abortion was completely illegal was in fact a myth because Islam does allow abortion if it endangers the mother's life. This unfortunately is also a very common case many times expectant mothers are underage or undernourished and often die in delivering the child.
Being a small part of a giant wheel, me and my team set out to start work in the area of safe abortion but bringing in the most marginalized segment of the society; women with disabilities. We aimed that these women will not just benefit from the training tools and awareness we aim to provide them but also become a guiding source for women in their communities.
It all started from attending ASAP's institute. From there we started with arranging a three-day workshop for women with disabilities. Through this workshop, we engaged 8 women with different types of disabilities and trained them about SRHR, Safe abortion, Law in Pakistan and Islam's view. These women further went and held advocacy sessions in their local communities and reported back to us.
With so much enthusiasm and zeal, we have finally developed a national network, which is further divided into Sindh and Punjab Chapter. I am personally passionate about leading the Punjab Chapter. Though it's a battle for women by women, we hope to engage the world into believing that every woman's life matters and every woman has the right to decide about her body and when that happens. I am happy that I was part of the solution and not the problem.
Watch this space for more!
(120)