In January this year the Prime Minister of India launched the 'Beti Bachao, Beti Padhao' BBBP (Save the daughter, Educate the Daughter) campaign. While there is much good about this campaign and it is certainly a laudable effort, there are some concerns about the language used and attitudes expressed.
http://timesofindia.indiatimes.com/india/PM-Modi-launches-Beti-Bachao-Beti-Padhao-campaign-says-female-foeticide-is-a-sign-of-mental-illness/articleshow/45985741.cms
The phrase 'female foeticide' was used repeatedly and prominently. His speech at a public gathering said;
"if this discrimination does not end it could cause a "terrible crisis" soon because of a lack of women in the country". He said it was very painful for him to see that in a state which produced a woman like Kalpana Chawla, the first Indian woman to have travelled in space, "other Kalpana Chawlas are killed in the wombs of their mother".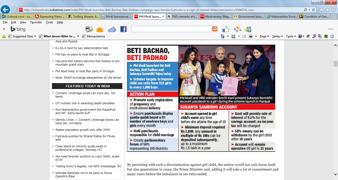 Urging doctors to shun 'female foeticide', Modi said they were not given education for 'killing girl child' and that it was their responsibility as part of society to ensure girls' safety and progress. "I want to ask you if this is what you have to do to make money… This sin is a betrayal against society," he said. "In our neighbourhood girls are commonly killed in their mothers' wombs and we don't feel pain" (NDTV, Jan 24, 2015).
Under the BBBP Campaign a reward of Rs 1 crore will be given for the "innovative" village which attains a balanced sex ratio. The plan is to pump in Rs 100 crore for the scheme this financial year.
The trouble is, that apart from creating a difficult space in which one can have a conversation about safe abortions and abortion being a women's right, and 'saving' a girl while disempowering the women in the midst of all this talk of killing and feticide, Page 1 of 4
the BBBP campaign also has targets. In five years it seeks to improve sex ratio at birth in 100 'gender-critical' districts by 10 points in a year, reduce gender differentials in under-five child mortality and improve nutrition status of girls.
Having struggled to move away from a target based approach in contraception for all these decades, we have now brought it back into the sex ratios at birth and 0-6 age group.
Some of the messages being expressed in public forums seem to imply that the reduced numbers of women will lead, inevitably, to increased violence against them. Sometimes this begins to sound more like a potential "we told you so' situation wherein women will again be blamed for the rape since it is 'inevitable' due to their reducing numbers, and men will be helpless but to indulge in sexual violence. After all if they cannot find enough women to marry then what else can they be expected to do, right?
The premise behind this desire to have a 'two by two' Noah's ark kind of scenario for men and women in society should also be reviewed. In most societies there are rules for celibacy, religious orders, men and women who stay unmarried for various reasons. Is there a sociological evidence of an ideal ratio? Just because close to 1:1 is 'natural' does not make it ideal. Child mortality from measles, mumps and malaria is 'natural' but clearly not ideal and we struggle to reverse it all the time.
Would it really be a better world if there was one woman for every man? Even if she did not want to be with that man at all?? What kind of assumptions does this entire campaign make that we are so keen to promote women as a matching number to the men? What about women who are not 'suitable' (eg. with serious disability) or not interested (eg lesbian or asexual) in being sexual partners to men? Do we want them also in matching numbers? If having sexual partners is what will keep men from raping and maintain a balance in society then why do we not use this same argument to legalize sex work?
And while we have this and many other such campaigns to 'save the girl child', the daily tickertape of women's lived realities continues-—molestation, rape, violence, dowry demands, lack of formal education, child marriages, no sex education, lower income jobs, sexual harassment, poverty and so on.
So when we speak of saving this girl, we should think of why we need to save her at all? From whom? And for what?
(641)