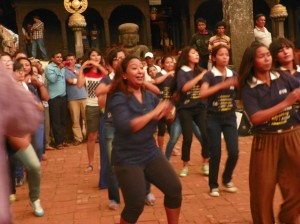 On Sept. 28, ASAP Youth Champions from Nepal Shreejana Bhajracharya and Prabina Sujakhu organized a series of flashmobs to promote safe abortion. They were supported in their effort by the Bhaktapur Youth Information Forum, and by ASAP Youth Champions, Smriti Thapa and Luxmi Shresta. Shreejana Bhajracharya reports on the events in this blog.
(This was originally published on Kumari: A Feminist)
A Flashmob is a group of people who assemble suddenly in a public place, perform an unusual and seemingly pointless act for a brief time, them quickly disperse, often for the purposes of entertainment, satire, and artistic expressions. It is really getting popular these days to disseminate messages to huge mass using these flashmobs.
Bhaktapur Youth Information Forum (BYIFL), Nepal organized a Flashmob with message "My Body My Future", "My Body My Right" and "Safe abortion is legal in Nepal" on the occasion of "Global Day for Action to Access Safe and Legal Abortion", 28th Sept 2013. It has been a year that September 28 being observed as the Global Day for Safe and Legal Abortion under the International Campaign For Women's Right to Safe Abortion.
On the occasion BYIFL organized various events to advocate for safe and legal abortion not only in Nepal but worldwide. On 28th Sept, 2013 BYIFL on-aired a radio program. Click here to read more. Then a flashmob was organised by BYIFL team with Youth Champions of ASAP. It was scheduled at around 5 pm in the evening in Bhaktapur Durbar Square. The Flashmob was about 8 minutes. But eventually the plan changed and the Flashmob was demonstrated in other two places in Bhaktpaur: Taumadi and Dattatraya.
There was huge crowd of people. People enjoyed the Flashmob and the response from crowd was unbelievable. You can watch a short clip here:
On 29th Sept, 2013 BYIFL chose another place to demonstrate the Flashmob with the message "It is Advocacy, not promotion of safe abortion".
The gratitude goes to Asia Safe Abortion Partnership, WGNRR and Family Planning Association of Nepal, Valley branch for their support and mentoring. The voices of young people unite and says, "Safe Abortion is Human right. Restricting access to it, kills women."
(589)