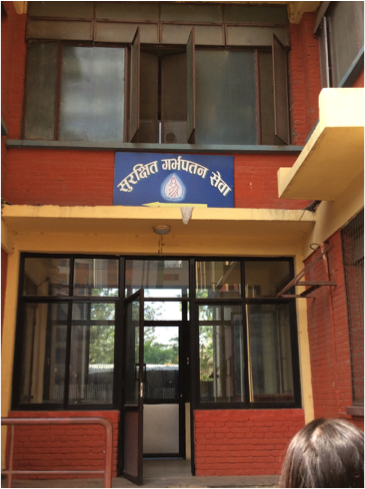 We started the second day with visit to the maternity hospital in Kathmandu. Nepal is one of the countries having the most beautiful and women friendly abortion laws. We visited the Comprehensive Abortion Care Centre (CAC) in Nepal and also witness the procedures. Nepal also is an excellent example of task shifting and it's both inspiring and empowering for the new counselors to see how the nurses and midwives have been trained to provide both Medical Abortion (MA) and Manual Vacuum Aspiration (MVA). At the Maternity Hospital participants were able to observe both MA and MVA procedure and it was a good learning experience for them. Apart from the logo, the clinic had many posters explaining the risks of unsafe abortion, the need for post abortion contraception and the impact on families when the woman suffers from an unsafe abortion. A debriefing followed the field visit for the participants.
After the field visit Dr. Rebecca from Women on Waves discussed at length the security concerns associated with operating hotlines, in her presentation Dr. Rebecca spoke about the associated risks, risk reduction and strategies to minimize these risks. The session concluded with a vibrant discussion on security challenges the counselors face and the best way to deal with it. Dr. Rebecca stressed on the need to take into account all security issues and having a back up plan and a good lawyer.
After lunch we started with experience sharing from existing hotlines – Aware Girls – Pakistan, RRAAM – Malaysia, Peace Foundation– Pakistan and Aproject– Lebanon. This session helped participants understand the challenges of restrictive environments under which these hotline operates; it also helped them understand that the situation of each hotline is unique therefore than cannot be a uniform solution to challenges each one faces. Tomorrow we will have some very interesting discussion on documentation and data collection followed by experience sharing from other participants.
Keep reading for further updates and share with us your comments and feedback.
(696)