Melinda Gates' vision of having no barriers to contraception has translated into an ingenious idea: www.no-controversy.com, where everyone can share stories, and take a pledge to stand up for the rights of every woman to make decisions about her future.
This is a gigantic leap for Melinda, who was raised to be a staunch Catholic. But as you watch her speak at Ted Xchange, or at the Colbert Show, you see a woman who has crossed this barrier herself, and is now urging the world to do so.
As we blogged before, we do believe that the Global Family Planning Summit is incomplete because of its decision to omit safe abortions from the agenda. If offered alongside contraception, safe abortions will offer relief to those women whose contraception failed. The agenda also undermines the role men play in the contraception controversy and adopts a unilateral vision by engaging only women in its dialogue. Also there is a fear that local governments may not be able to sustain the project's vision if it is not integrated comprehensively into local programmes, especially public health sector services. (Read full post here)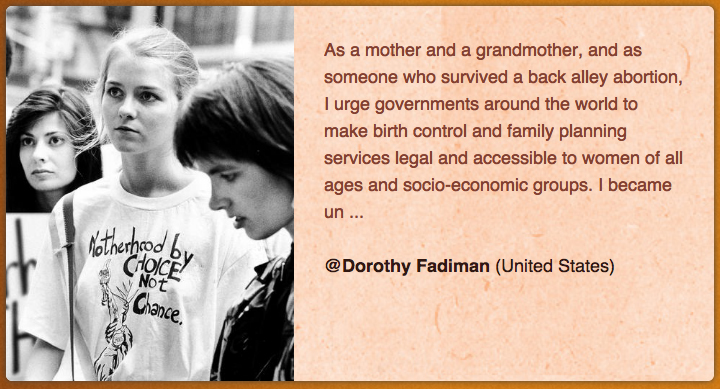 Yet, there is something truly remarkable in the way this Summit has come together for women so far. Melinda has been particularly consistent in her vision to empower women by allowing them to make decisions about their own bodies. She has consciously made efforts to present contraception as a woman's right. Unlike Rio+20, or the MDG report this summit promises to address family planning as a reproductive right, rather than a state-owned welfare programme.
If Melinda chose to amplify people's voices with her website, the British newspaper, The Guardian is not too far behind. Leading up to the summit, they are running a crowdsourcing project that allows the audience to leave anonymous comments using a survey, or submit an article. Approved articles will be tweeted using the hashtag #barrier2access. All these interactions will then be mapped to show how the world came together for contraception.
Family planning is truly a need of the hour. As Melinda says in her TED Xchange, it's not about forced population control, but about delivering a secure environment for children and creating environments in which a woman can take charge of her life. Hopefully not too far into the future, there will be global consensus on the fact that access to safe abortions will deliver women the same security.
(384)