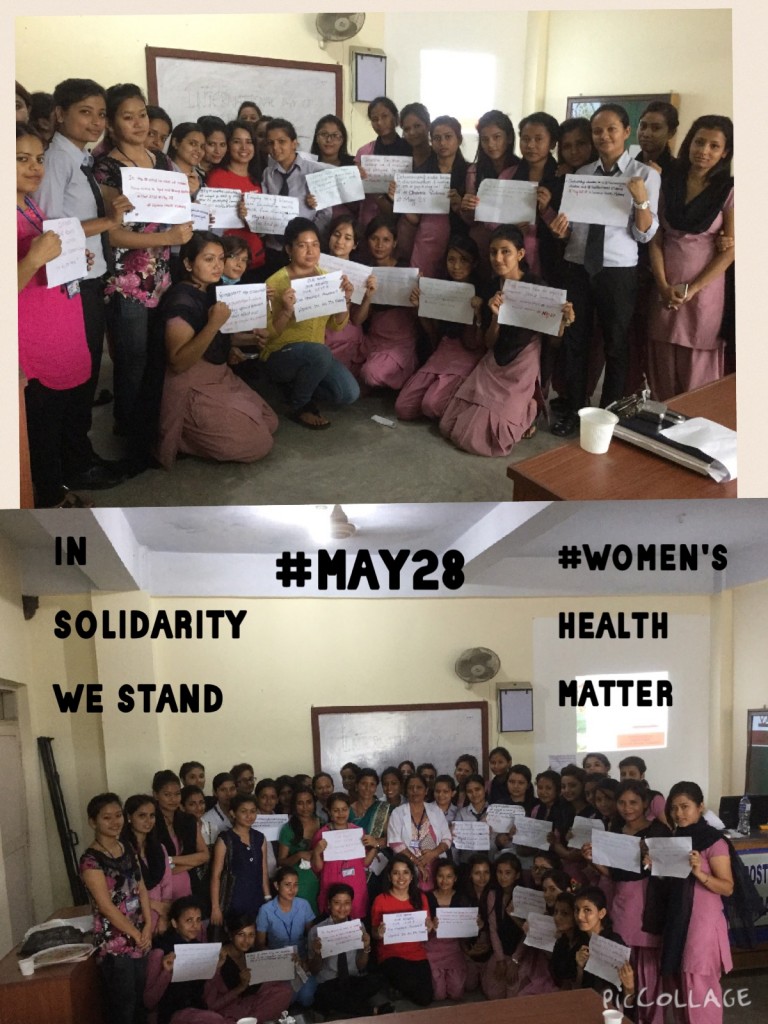 As youth champion, I have held a number of advocacy program earlier but this time it was different. Things were no longer same for my country when massive 7.8 rector scale earth quake hit my country killing thousands of people with most of them being women and girls. The women's and girls' survivors' sexual and reproductive health and rights were largely ignored. The immediate relief materials lacked basic dignity kit for women and girls but later with the voice from international community and support from international friends and partners the same was mobilized.
Amidst all these gloomy days and in between ongoing aftershocks, we had a reason to celebrate a day, which stands for women's health. #May28 is the International Day of Action for Women's Health. It has been celebrated by women's health advocates and their communities since 1987 and is milestone in the journey of Sexual and Reproductive Health and Rights (SRHR) advocacy. It provides a an opportunity to remind our government leaders that Women's Health Matters. This year's campaign was focused in ensuring that Post-2015 comprehensively addresses women and girls' SRHR through highlighting the extreme consequences resulting from a narrow approach to women's health, in the form of the institutional violence condoned and perpetuated by the State through the denial of sexual and reproductive health services and rights.
Usually my earlier advocacy programs were based in capital city as that is where I was studying and my work was based. But with this earthquake, I was in my home town for few weeks, that's when I decided it's time to encourage from outskirts to be part of this global advocacy programs. It was time to give something to young women of the place where I was born and I received large part of my education.
The main purpose of this program was to:
Assess their awareness on May28 and post 2015.
Sensitize them and increase their understanding on International day of Action of Women's Health and its importance.
Mobilize them in their own capacity especially on social media for celebrating May28.
Accordingly, the tentative schedule and plan were on
Nobel Medical college, Biratnagar- MAY 25th- Around 50-60 participants expected- participants include, medical, nursing graduates, hospital staffs and faculties.
P Koirala institute of health sciences, Dharan: May 26th –Around 50-60 participants expected- participants include, medical, nursing graduates, hospital staffs and faculties.
Eastern Medical University, Damak. 27th May around 50-60 Participants, which includes medical, nursing graduates, hospital staffs and faculties
Meanwhile there was a tragic incident in BPKIHS where a junior resident was killed in a storm inside the hospital premises and she happened to be my batch mate. It was such sad news, so keeping the mournful situation of hospital, the program was postponed there.
The other two programs were conducted as per scheduled. The program was organized in individual level as Youth champion and was supported by the administrative staffs and faculties of the respective universities. It was more of motivational advocacy program as how they can be future change agent as young women. How they can be the part of global advocacy program like May28.
Journey of youth champion
May 28 and its importance
Institutional violence

Abortion
Forced and coerced sterilization
Obstetrics violence
Denial of access to contraception

Use of social media for advocacy
Tweetathon and its importance
The sessions ran smoothly and the participants were active. They were deeply engaged throughout the session and had a in depth reflection over the topics such as forced sterilization and obstetrics violence. Some of them had no idea regarding the legalization of abortion in our country and after the session they were glad that abortion was legal here in Nepal. Most of them were Facebook users but they were enthusiastic to learn new social media i.e. Twitter etc. They also realized the importance of social media as tool of advocacy. All their other queries were solved and they were advised for advocacy on safe abortion and women Right.
All together 103 students, staffs and faculties were sensitize from both universities. One was public (Eastern medical college= 47 participants) and other private Nobel medical college =56 participants).
I found a deep satisfaction when I saw some of them being active during May 28 in twitter and Facebook and advocating for women's health and right. I see the knowledge that I gained in Youth advocacy institute being transferred to young women of my hometown. This is what is best being youth champion, the motivation that you receive simply doesn't fade away and even in dire situation you are there raising your voice.
(758)