Here's how the world discussed abortions and family planning this week.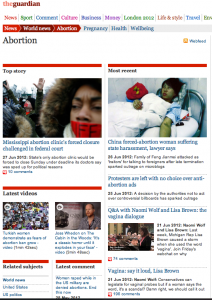 First for the good news. Last Thursday, the WHO released its updated guidelines for safe abortions. A must read for all care providers, legislators, policy makers… and if you ask me just about anyone.
Rio+20 was nothing short of dismal for women. Pressure from conservative regimes forced world leaders to shy away from discussing family planning as a reproductive right. Abortions were not even mentioned in the final outcome document, and therefore women seeking safe abortions have once more been abandoned to the mercy of their state's legislations and welfare programs.
Read Women's Major Group's Review
The UN Women call for action made some amends, but did not include a comprehensive clause on sexual and reproductive rights either.
In India, the furor over sex-selection is threatening unrestricted access to safe abortions. If abortions are selectively banned for the fear of saving unborn girls, sex-selection will probably be driven underground, and the lives of several women will be at risk. Unfortunately, the emotional wave against abortions has left no room for such nuanced thinking.
Read Article on Hindustan Times, and do let us know what you think: what's the real national emergency: sex-selection, or abortions that are being used as a tool.
Read our comments on Beed, India.
In China, forced abortions are in the news, and the government might be forced to rethink its laws on family planning. Which is good: no woman should be forced to make decisions about her life, and her body that she is not ready to make. But we also think that the traditional views on motherhood need to be simultaneously challenged, so no woman is forced into pregnancy either.
And in Turkey, the conflict with Syria has drowned the news on abortions, and there were only a few silent reports on the conservation regime's decision to law off the ban. If the topic is not raised again, it is one win for women's solidarity.
Read article on The Globe and Mail
Onto the Future:
What will the Global Summit on Family Planning in London bring?
Read our concerns and hope here.
Read on Reality Check: Family Planning is a social justice issue in poor and wealthy countries.
And, outside of Asia…
In the U.S., the Jackson Women's Organization is currently fighting to stay open, because of a new law that mandates Ob/Gyn certification, as well as hospital access for doctors performing abortions.
Obamacare was approved, and now insurance is available all over the U.S. But in U.S. Catholic Bishops are protesting it in their very poorly named "Freedom" Rally.
But there's reason to be cheerful: Michigan Rep. Lisa Brown's bold stand on the right to say the word "vagina" at will is still being discussed, and was among the top hits for abortion on The Guardian.
(421)