April 25th, 2015……….. nothing was the same for Nepal as a massive 7.8 rector scale magnitude earth quake brought about massive destruction. It took the lives of more than 10,000 people and more than half of them were women and children. According to UN estimates, the earthquake has affected approximately 126,000 pregnant women. Just in terms of nutritional needs, about 168,000 mothers need breastfeeding support and 126,000 children under age two required nutritious food for immediate relief. This has added to the burden on addressing the sexual and reproductive health and rights of women in a country whose health system was already weak. Furthermore, poor maternal health, incidences of gender based violence and girls trafficking have made the situation even worse.
The new set of Post-2015 Development Agenda known as Sustainable Development Goals (SDGs) is expected to guide international development policies, priorities, and funding over the next 15 years. The MDGs (ending in 2015), were targeted for developing countries. However, they addressed women's health in a very narrow perspective within the boundaries of maternal mortality. Women's health is so much beyond maternal health!
Women are not just mothers; they are single women, women living with HIV, drug users, sex workers, migrant women and adolescent girls. Planning for women's health should encompass the entire life cycle.
Abortion was legalized in Nepal in 2002 with the purpose of achieving MDG 5 (to decrease maternal mortality by 134/10,000 by 2015) since unsafe abortion accounted to more than 20% of that overwhelming data of maternal mortality. We managed to make some breakthrough and the maternal mortality has gone down from 581/10,1000 live births to 281/10,000 live births (National Demographic heath survey, 2011).
However, laws, policies and plans are not enough. It is equally important to look at the most important aspect that is the human right perspective of providing and receiving care. Health is in fact not a privilege bestowed by the government to its citizens but a fundamental basic human right. As we move towards more sustainable world beyond 2015, we definitely need some sustainable approach towards health especially for addressing women's health. While access is important, quality and respectful care is equally important. With MDG, we focused on the numbers and somewhere we missed the people and their rights. We drastically increased institutional deliveries (35%, NDHS 2011) but at the same time increased the incidence of obstetrics violence, which occurs both in public and private medical practice and combines the worst of institutional and gender violence. We legalized abortion but we have not been able to remove the stigma, shame and discrimination surrounding it.
So, as we all come together in framing new goals for next 15 years, let us not repeat the same mistake again by just focusing on maternal health. Sexual and reproductive health and rights of women and girls should not only be the priority in addressing the current national crisis but in framing our development for next 15 years to come.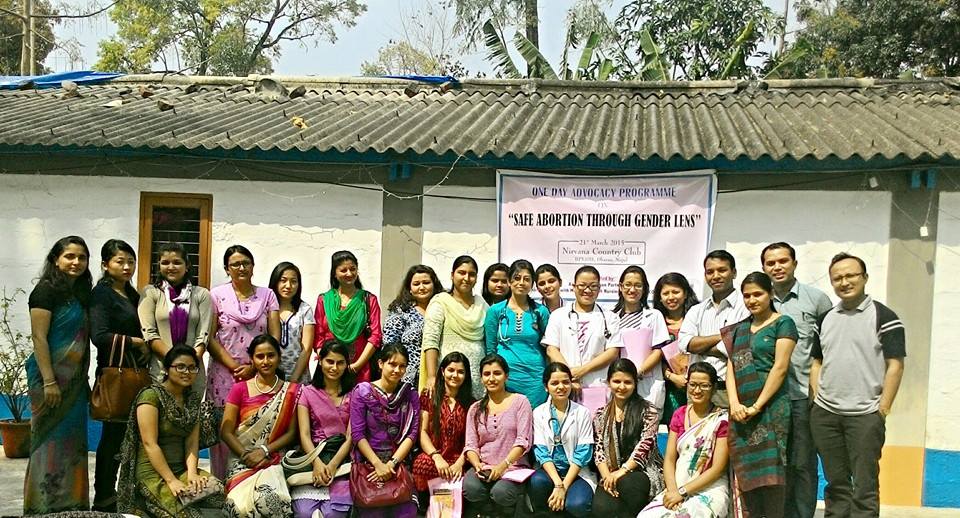 Youth Champions in Nepal are able and willing to take up this challenge and work together to make this a reality!
(819)