Lakmini Prabani Perera, Youth Champion, Sri Lanka
---
On the occasion of Independence Day in Sri Lanka, our Youth Champion reflects on what it means to be free, and the need to build partnerships across anti-colonial and feminist movements to achieve true freedom.  
---
To what extent are we independent as a nation or as people? I believe, as a citizen of Sri Lanka, that you might have asked this question more than once to yourself.
Sri Lanka annually celebrates its Independence Day on the 4th of February. This celebration is to remember the struggles of history and to celebrate our independence from the colonial rule of the Portuguese, Dutch and especially over the British, in the year 1948. Today we celebrate Independence Day by hoisting the national flag, with speeches by people in power, and with a parade of the military.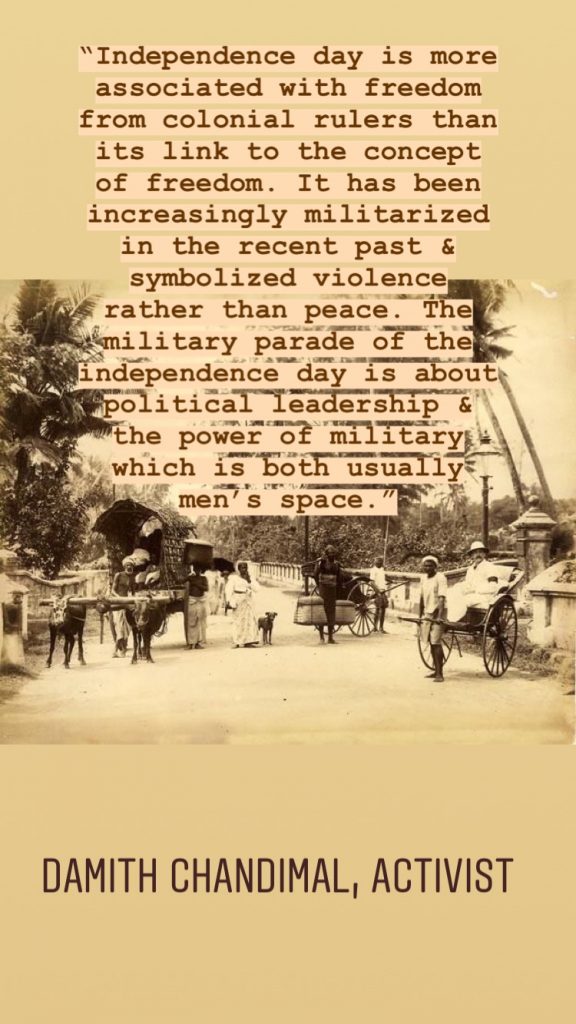 The Lankan political system and laws were made and shaped by the British colonial rule from 1801. In 1931, the Constitution gave some sort of authority to the native citizens who were elected. It was on 16th of May, 1972 when the country was officially declared as an independent republic. The Constitution which is currently in force gave more authority and equality for native ethnic groups. For these past years, the Constitution has been amended several times and yet bears the shape and signs of colonialism and oppression.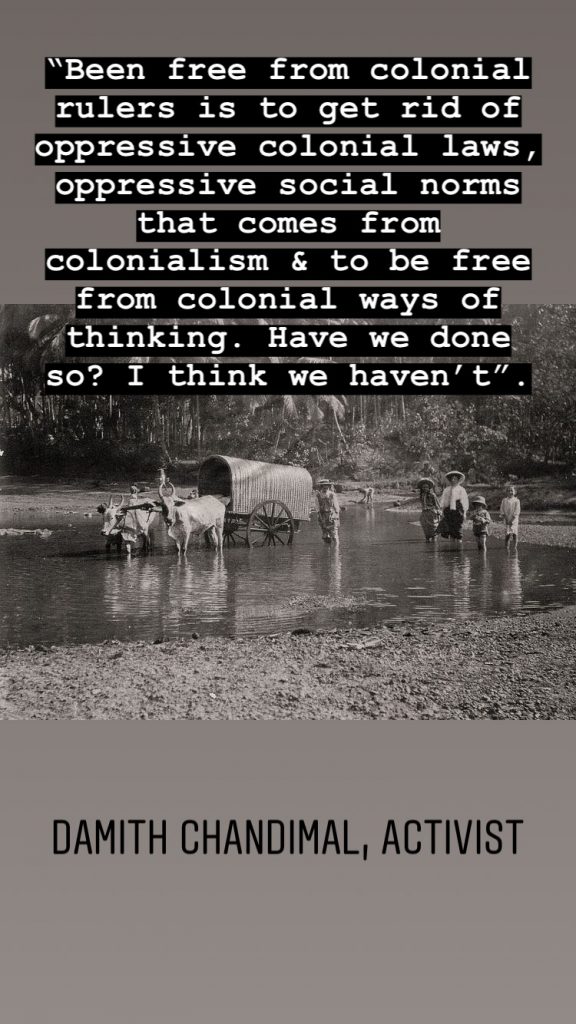 Whenever Sri Lanka tried to progress there have been barriers, where we are still fighting to find our own identity, respect, equality and justice for all citizens. National unity, rights of minorities, women's rights, the centralization of political power, and judicial dependence and politicization, are some of the issues and challenges that we are facing as a nation and where we cannot say we are experiencing the true meaning of freedom.
Looking at a normal day in Sri Lanka, just only from reported cases in newspapers, we see that many civilians in our country are suffering, are vulnerable, and are not free from violence. That means every individual in this land isn't living a life which is free. Especially women and girls have become more vulnerable in this situation. Simply being at home, in schools, workplaces, police stations, government offices, schools, courts, buses, trains, streets make them open for discrimination, exploitation and violence. As the Women's U.N. Report Network, 2015 mentions 30% – 40% of women in Sri Lanka suffer from some kind of violence while 60% of women across Sri Lanka are victims of domestic violence.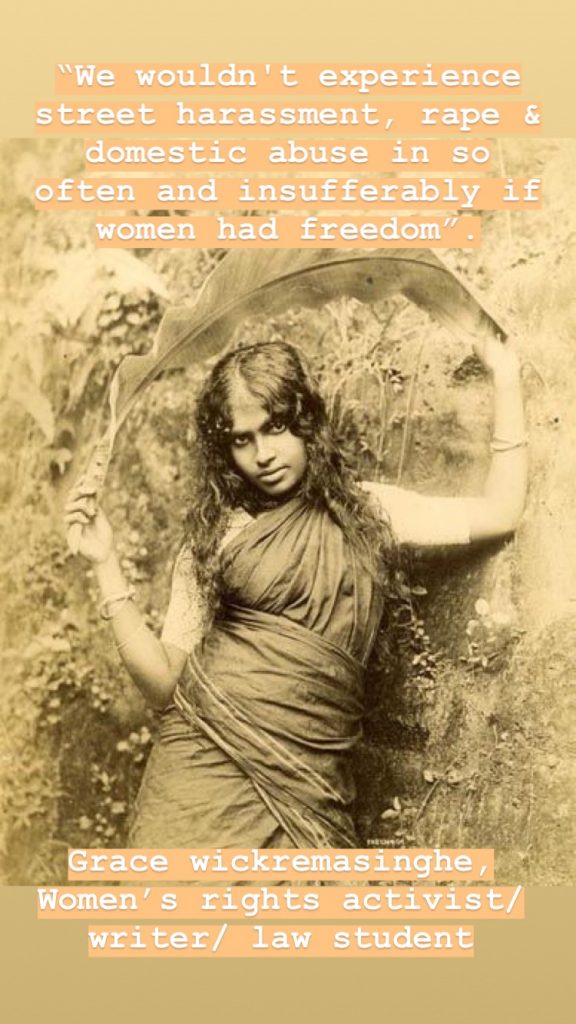 According to UNFPA female participation for foreign employment was 51.73%, total of 247,119 in 2009. The violence and discrimination they have to go through has increased with the numbers and women and girls who are working in Sri Lanka.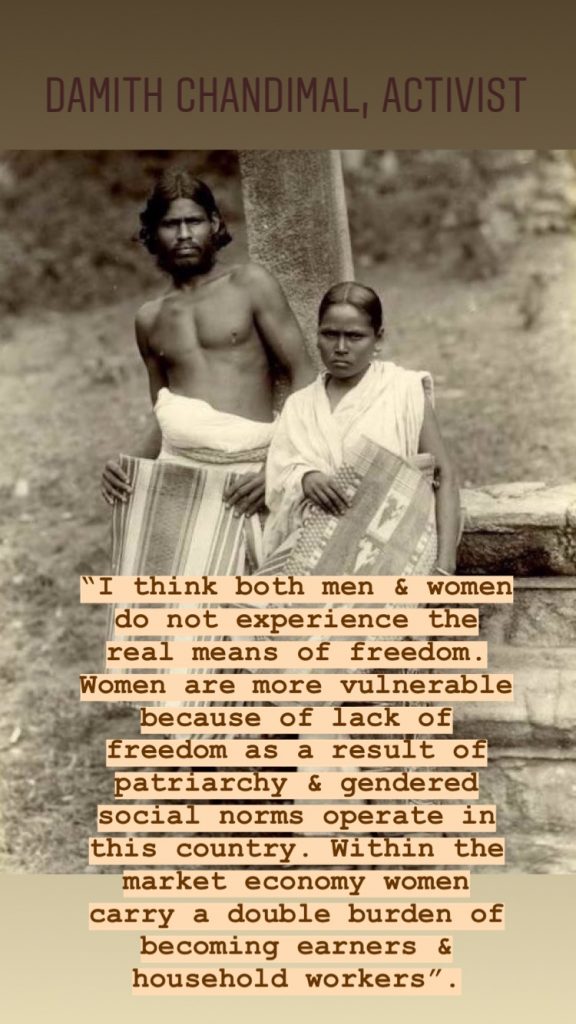 Recently a woman candidate in Wellawaye area in Monaragala District was attacked while she was involved in the election campaign. This shows that the country doesn't have a free environment for individuals to engage in politics freely. According to UNFPA, women's representation in parliament was 5.8% in 2010, 4.1% in provincial councils in 2009 and 1.8% in local councils in 2006. Could this be any better when there is no assurance for free and just political and civil rights in the country?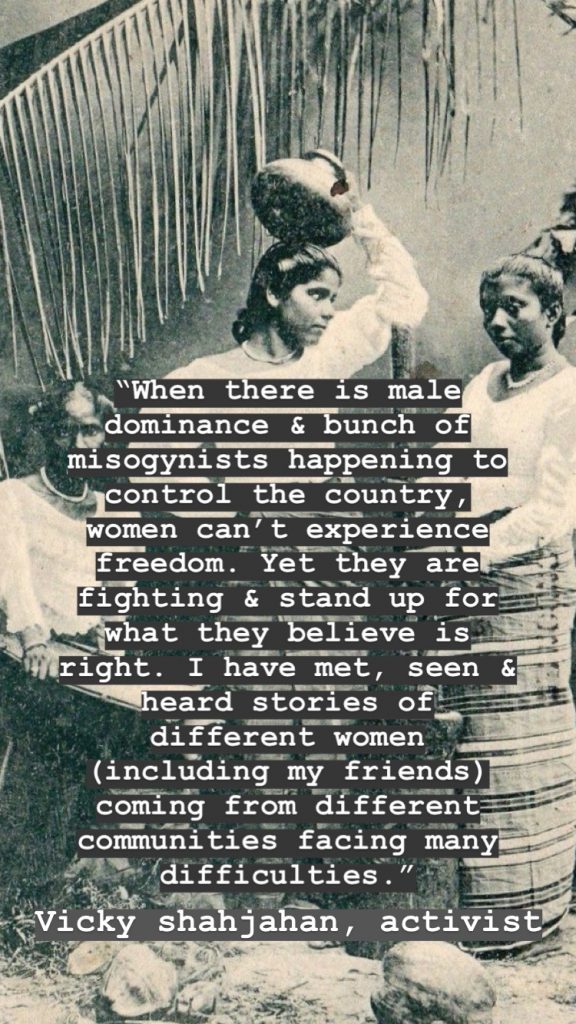 Women were entitled to purchase liquor under Sri Lankan law from 08th of Jan, 2018 where President rejected this decision and the Cabinet banned women from purchasing liquor from 16th of Jan, 2018. Are women in Sri Lanka enjoying equal rights or the nondiscrimination on the grounds of sex as guaranteed by the constitution?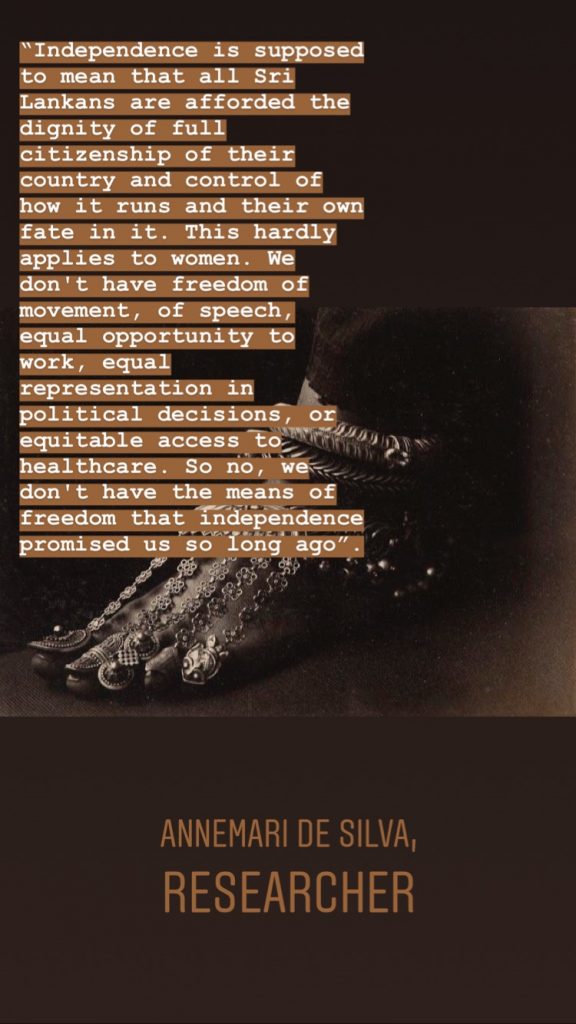 Even the amendments on abortion laws are on hold to please men in this country. According to Family Planning Association of Sri Lanka, 700 plus abortions take place daily in Sri Lanka which takes place in unsafe and unhygienic conditions. This risks women's lives because of health complications, septic abortions, infertility and even by death. As the Family Health Bureau emphasises maternal deaths due to septic abortion are the third highest reason (13%) for maternal deaths. Women are not in a position to decide when to be pregnant and to decide and terminate an unwanted pregnancy. Whether the women get access to medical information and services to terminate an unwanted pregnancy is highly doubtable in a country where purchasing liquor was ban for women by the President.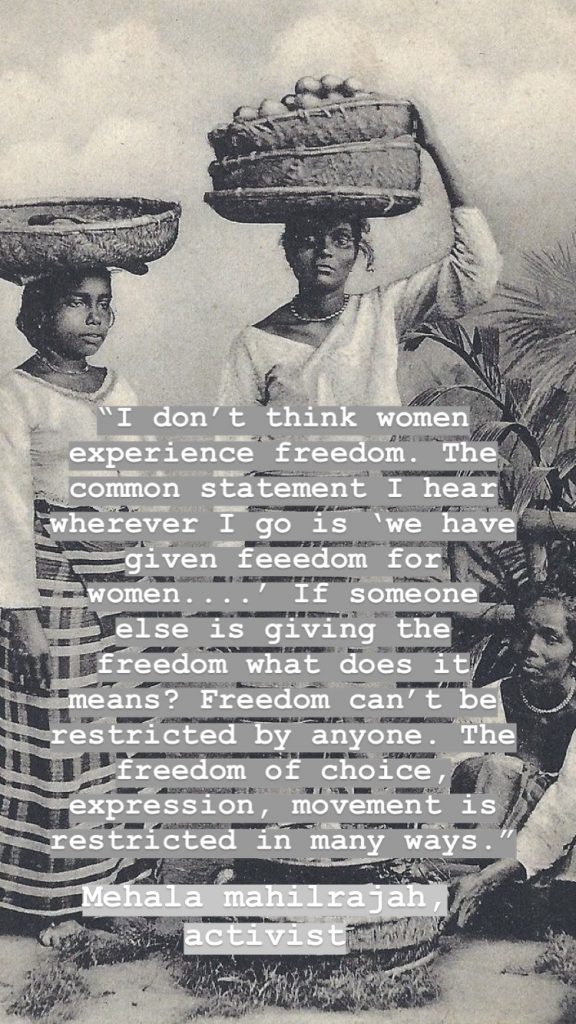 Women are most vulnerable in every genre of the society, every institute and where they are treated without respect and dignity. The years of violence and oppression has not let them achieve their fullest potentials and real essence of freedom. Here is a promised land where women has to risk almost everything to decide for themselves.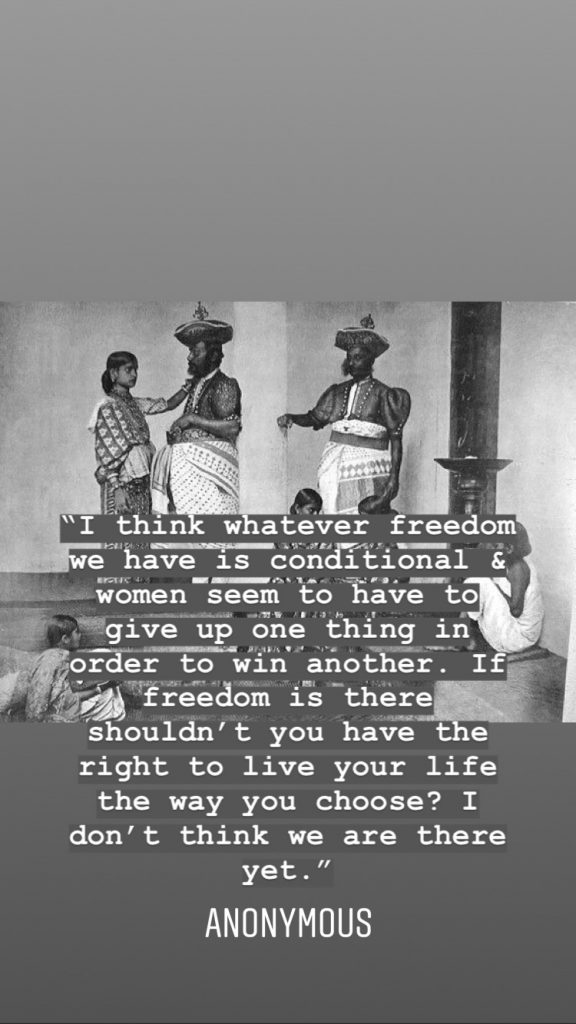 I hope this is the right time for us to go forward courageously to the Day of Freedom for all Sri Lankans. I will with all of you dream for that day!
(50)